The snow melts and lacrosse begins
Hang on for a minute...we're trying to find some more stories you might like.
Snow is melting and grass is getting green again. Lacrosse players everywhere are tightening their strings on their sticks because the team's first game is rapidly approaching.
The boys and girls lacrosse players are gearing up for their first upcoming games. They are cramming in as much practice as they can with the difficult weather conditions that have been given. The Stillwater dome time for many teams is limited and they need to take advantage of it when it is available.
"This year will really change Stillwater lacrosse. People on the team want to win and want to be successful. I really think we have a shot to at least make state this year," said junior Luke Burridge.
Confidence is high with the 2015 boys Lacrosse team. They believe their athleticism and defense will bring the to the top in their conference. With their first game on April 14, the boys hope to start the season off right by beating the well-rounded Wayzata Warriors. With the goal in mind of making it to state, senior captains Connor Anderson, Joey Friechels and Andrew Lammers hope to bring the team above .500, which it was last year.
"We just hope to keep playing the way we have in the past. We all play together well but we just need to keep working hard and we can beat anyone," said junior Sam Houle.
The girls on the other hand are still one of the strongest in the state. Finishing 3rd in the state tournament last year, beating Lakeville South, they hope to win it all this year. Senior captains Carter Sanderson, Ashley Ludack and Anna Corman have all tried to fine tune the little things. With a nearly perfect record of 15-4, the girls were a powerhouse organization last year and hope to keep it going this year. Their opening game is April 10, against Edina at SAHS.

About the Writer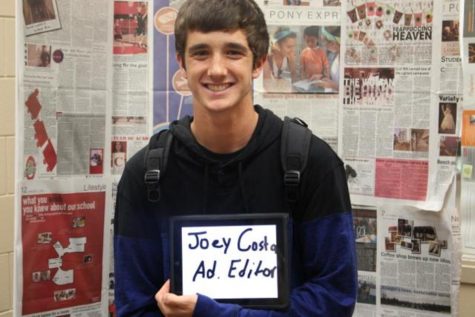 Joey Costa, Advertising Editor
Joey Costa is a 2016 graduate who lives in Stillwater with his mom, dad, sister and three dogs. Football and year round baseball mainly use up his free...