Spring sports forced to stay inside
Spring sports are right around the corner, but unfortunately the weather has not be cooperating the best. With this winter breaking record snowfalls and freezing temperatures, this spring does not look to appealing when it comes to outdoor sports.
Many of the spring sports start their try outs over spring break, March 14- 20 The beginning of March has not been anywhere near the normal temperatures. Hopefully the first day of spring does, but that does not look to promising either.
"The other baseball captains and I have been discussing what we will do for practice, a lot of the space has already been taken up. It will be hard. I hope the weather comes through with us. Weather has been pretty bad so far.  Our first game is scheduled on April 3rd but I don't believe we will have it.  Probably some double headers this spring but hopefully it won't be as bad as last spring," senior baseball Captain, Trevor Dudar.
It is not just one of the spring sports that are affected, but all. It is affecting their season try-outs and warm ups. Every sport either has their first game or scrimmage coming up within the next few weeks, many of them do not think they will be able to play the game. This is not the first year that the weather has affected the try outs.
"The weather has forced us to practice at the dome and will also prevent us from having our tryouts outside over spring break. Hopefully, it warms up so our season isn't pushed back too far like last year. The weather will affect our season by preventing us from starting when we intended to at the beginning of April and will also force us to stay inside until the field is clear and dry. Last year we got off to a slow start due to the weather but now that we've experienced it before we'll be able to hit the ground running and have a great season. We have great leaders this season and they'll make sure we stay focused and are ready for the season. We're looking forward to a great 2014 season," Junior Ethan Stanley.
Golf to baseball to track, all of these spring sports are outdoors. All of them can be mortified to be practiced in doors, but it is a huge challenge.
"It makes it a lot harder to get warmed up because we need a lot of space and there is only a limited gym space. It's basically just making things harder and probably will hinder things into the season. Shouldn't make things too difficult, it might mean to maybe have to make up games at the end of the year but that is about it,"junior Lacrosse captain Connor Anderson.
All the sports will be affected by this winter's record snow falls. Teams are doing the best they can to work with the weather this spring.
About the Writer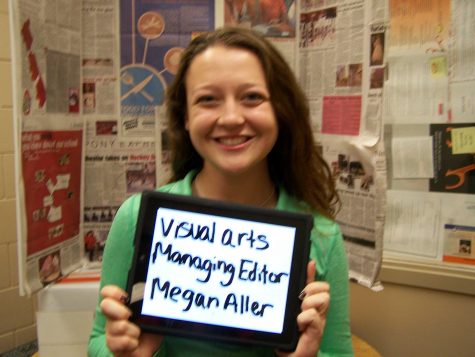 Megan Aller, VAME Manager
Megan is ready to graduate this up coming spring and eager to become a Nebraska Husker, fall 2015. She is a second year returning student on The Pony Express;...