New presidents for Amnesty International
Hang on for a minute...we're trying to find some more stories you might like.
Stillwater's branch of Amnesty International is responsible for charity fundraisers around the school as well as their main event, celebrating International Human Rights Day. Behind every successful event are the students who dedicate hours of their time to making the world a better place. The presidents of Amnesty International will be passing their charitable responsibilities onto the next generation.
Seniors Matthew Treacy, Brian Treacy and Ivy Thompson are the current presidents of Amnesty International, and their hard work was needed to ensure a successful International Human Rights Day event. The current presidents will be graduating in June and thus will be passing the role of president onto the next generation of leaders, juniors Shelby Alm and Erika Orin.
Alm and Orin joined Amnesty International as sophomores and have dedicated hours of their free time towards changing the world. Both of the new presidents have played important roles in the events put on by the club over their two-year memberships with the club.
"They have both been heavily involved in the club over the past few years," said Matthew Treacy. "They know what they're doing and they're interested in leading the group next year. We had a meeting in which people who were interested in becoming leaders attended, we made sure they were a part of our Human Rights Day and other events that we put on so they could learn the ropes for next year. We chose the two because of their involvement and dedication to the club."
The leaders have many responsibilities within and outside of the club. The presidents are responsible for running the club meetings and planning events, especially Human Rights Day, as well as letting other students know what the club is all about.
"
There is so much happening in the world that people don't know about. I feel that I could open people's eyes to the truth and make them want to do something about it."
— Shelby Alm
"The new officers and I have the responsibility of organizing events, running all meetings and coming up with ways to not only raise awareness of the violation of human rights, but find ways to act on them and make a difference no matter how big or small. We are also tackling the job of recruiting new members as there are a ton of seniors that will be leaving," said Alm.
All of the students involved in Amnesty International are leaders within the school, but the who are chosen to lead the leaders have something special. Sophomore Corri Gardner has been with Amnesty International for a year and appreciates all the work that the new presidents have put in over their years with the club.
"They work really hard at all of our events," said Gardner. "There are a lot of people in Amnesty International that could be leaders just because we are all so passionate about it, but they definitely deserve it."
To the new presidents, this opportunity is their chance to help let the world know all of the problems that frequently go unnoticed.
"There is so much happening in the world that people don't know about. I feel that I could open people's eyes to the truth and make them want to do something about it. Overall, I really want to raise awareness of what's going on in the world, but make it a fun experience at the same time. So many people aspire to make a difference in the world, and this would be a great way to do it!" said Alm.
Alm and Orin have high hopes for what they will be able to accomplish with Amnesty International next year, they plan to do their best to change the world for the better.
About the Writer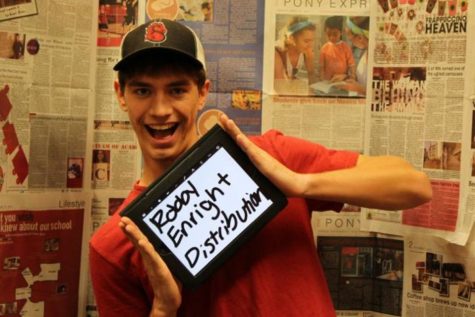 Robby Enright, Distribution Reporter
Robby is a junior at SAHS, he plays football and track for the school. He also plays the guitar and is heavily involved in video production in his free...