Jessica Thomas, Editor-in-Chief

April 30, 2015
Intramural sports come in plenty at Stillwater, but the work and competition to follow behind each one are unique and different. Intramural volleyball began on April 13. It is a league made up of nine teams, six of which are in the upper league and three are in the lower league. Competition dates includ...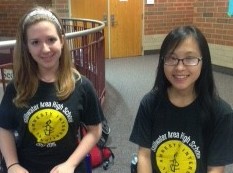 Robby Enright, Distribution Reporter

April 28, 2015
Stillwater's branch of Amnesty International is responsible for charity fundraisers around the school as well as their main event, celebrating International Human Rights Day. Behind every successful event are the students who dedicate hours of their time to making the world a better place. The presi...