Volleyball spikes up success
Those Mizuno labeled balls bumping around the high school gym are starting to come to end as the season comes to a close. The  girls volleyball team has done nothing but persist, which created a successful season for them. Throughout the roller coaster ride of adversities, teamwork gave them a turn for the better, and there are no stop signs for the success that is to come.
This year's team has sparked the true character and definition of a team for all to see. Volleyball has a short season, so finding the core of the team can be difficult. This newer set of faces to the varsity level was not a comfortable conversion, but a difficult one. Now four seniors, compared to last years eight, made the team uneasy at first.
Getting into volleyball was just an accident for head coach Bob Fischer, and in no way a mistake. With a family active in volleyball and coaching staff serving him in immeasurable amounts by his side, he has an extraordinary group of people who believe in his wisdom of the game and the team.
Learning to be a fine example for all was a major lesson that has been repeatedly taught to these four veteran seniors.
"Our team is built of all different grades, we have one freshman, three sophomores, six juniors and four seniors. All of the younger girls looked up to us seniors," said senior Alexa Gibson.
Not only has the age given them leadership, but experience. The captains have also worked together to take the high road for planning, organizing and responsibility for the team. They took some weight off of the coaching staff's shoulders; not just a role, but characteristics that will stick with these girls on and off the court. A goal of the captains is to continue the legacy of leadership for years to come.
Currently, having only one less win than losses and a big win in their first section match, they drew strength from each other to end the regular season and start section playoffs strong. After a rough patch at the start, Minnesota volleyball hub reveals the team to be hitting the finish line strong by earning a win in their last four matches.
"Like all school teams, it can be a struggle to get into a good rhythm at first, but then when everyone clicks, it is great," said senior captain Leah Richter.
The team's countless hours of work during off and regular seasons have set them apart from other years. Several of the girls are also active in other sports, which Fischer says is one way they have improved themselves. In addition, he carries out a summer camp enabling a substantial growth on each and every girls skill, strength and conditioning needed for the sport.
Instead of complaining on what they do not have, they celebrate and execute with what they do have.
"Our achievements have been the ability to come together as a team and play our positions to the best of our ability," said Richter. "Each girl brings something important to the team. We have had some movement in positions, so we have had to adjust, but everyone has done that well."
One common belief among them is the togetherness that has helped them improve physically and mentally.
"This year we have players that can play in multiple positions, so it's nice to have a flexible team," said Gibson.
Comradery has intertwined the team to become one. Their relationships on and off the court have molded the team together to achieve their goals and success.
"Our team has lots of fun together. We had a few team sleepovers where we ate food, watched movies and talked all night," Gibson said.
Besides for fun, a reoccurring theme being shown is creating a team chemistry to improve attitude and to create trust among one another.
Besides the team itself, their fans are a major pillar in the volleyball program that keep the foundation strong. Between the volleyball hats, faces on a stick and tossing t-shirts, the fans are also into contributing.
"The fans bring energy that our players tap into and they are critical to our success on the court," said Fischer.
Besides the supportive student section, parents play a big role in the team's successes.
Richter said, "The fans are a huge importance to the team. They have supported us and believed in us every game this year. Their energy makes us pumped up and increases the desire to win."
As sections get the green light to begin, Fischer, with the help of the captains, has been preparing the girls all season long, most girls unknowingly. Unsure of the outcome, being positive and inserting everything they have worked for, learned and done throughout the season comes into play now.
"Our attitude is the same regardless of the time of year," said Fischer. "Volleyball is a team sport. Everything flows from playing for each other; we will improve our own skill level more, work harder, celebrate more often and ultimately enjoy the sport if we shift the focus from ourselves to our teammates."
Vigorous with time and effort, this team has proven the true meaning of success. The sacrifices being made have paid off so far, and will help each and every girl prosper on and off the court. Success will continue to parallel with leadership; major theme for this year. From the coaching staff to captains to the team to the fans, the association would never be as great without this dependable support system. This team  is a prime example for not just Stillwater students, but for all teams of every sport.
View Comments (5)
About the Contributor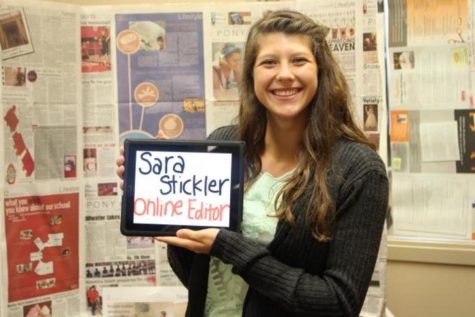 Sara Stickler, Online Editor
Sara has many activities and interests incorporated into her life. She has a variety of passions, making her life very busy. One of her biggest interests,...