Volleyball team takes a hit losing senior captain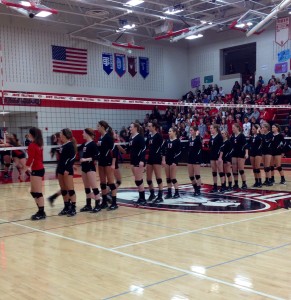 Having a new coach can be tough, but the varsity volleyball team is not a stranger to this experience.
For the third year in a row, the team has a new coach. This year's new coach is Bob Fisher. Fisher seems to be relating with the team quite well, although no one knows for sure if he will be next year's coach.  He has coached in many local junior club programs in the last 20 years and has coached the New Richmond high school team for the last four years.
Fisher believes that the coaching changes have had minimal affect on the varsity team.
Fisher said, "We have eight seniors on the varsity this year. Some of them have been on varsity for four years so their experience has been invaluable to us.  In addition, all eight of the seniors have brought their own strengths and personalities to create a fun and competitive team chemistry."
Senior Savannah Sprenger is one of the three captains this year and has shown great leadership skills in the absence of a multi-season coach.
Sprenger said,  " Its definitely a different feeling inside the gym." She added, "Coach is doing a good job of keeping some old habits while incorporating his techniques as well."
The team has many returning members this year, making the girls veterans to the varsity playing field.
In addition to the seniors the team consists of one junior, four sophomores, and one eighth grader.
Fisher said, "They have all adapted well to the speed of varsity play." he added "Many of them have played various roles throughout the season, both in practice and in matches;  they have all displayed a fantastic attitude and work ethic."
The team has played many games already this season, they have a record of 12-10 and in the conference they have a record of 6-3.
Sprenger said, "We've had a few rocky instances but the good thing is we're all learning from them to prepare for upcoming games."
As well as coaching set backs, the team has also dealt with a few injuries this year.
Fisher said, "Savannah's injury has made each of us dig deep and work hard to replace her skills and her competitive fire that she brought to the court."
The volleyball team has many strong leaders on the team, which has offset the lack of a long lasting coach. The team continues to do well and succeed even against all odds.