Jason Rohde runs clay business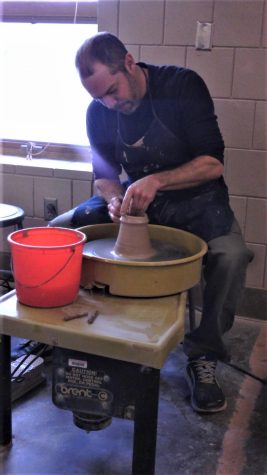 Rohde Pottery Farm is a business located in Woodville, Wis. Rohde Pottery Farm is owned by an adored clay teacher Jason Rohde. It is Rohde's second year teaching at the high school, but he is certainly not new to the teaching world. Rohde has been teaching for a total of 19 years.
"Mr. Rohde is a terrific teacher and we're lucky to have him," Principal Rob Bach said.
Rohde attended Mankato State for college. Making the decision of which art credit to take, he chose ceramics where he found his new love for clay.
"Being able to take a lump of clay and turning it into something elegant and functional is just really rewarding and relaxing," Rohde said.
Rohde met his wife, Emily Rohde, in a pottery studio at Mankato state and from that point it had always been their dream to open their own clay shop. It took a total of 10 years to actually get things up and running for their new business. Rohde explained that they had all the equipment and supplies needed, but did not have the right electricity or the right space. When they moved to their current location, the business took off.
Rohde had always had a love for teaching. He would spend his summers volunteering at a kid's camp either working or counseling where he "loved interacting and just being with kids."
The idea of an art teacher came to him when he realized merging the two things he loved, clay and teaching, into one would be what he wanted to pursue.
Having a teacher who runs a business is also a benefit for the students. The connection between student and teacher is very important and kids should always feel comfortable and welcome. With Rohde, he makes that easy. Rohde is able to give insight and advice to those wanting to start their own business.
"It gives them one more resource to potentially talk to and how to go about doing that," Bach said.
Customer Erica Carpenter also described him as "nice, creative, hard-working, and supportive of his students."
Rohde Pottery Farm also has an Etsy shop with over 1,200 sales. They sell bowls, mugs, plates, coasters, etc. with amazing reviews.
This past year, they were anonymously nominated and won the best local artists in the Baldwin-Woodville area. Rohde also makes sure everyone feels welcome and takes care of both his students and customers.
"Something different about their business is them, Emily and Jason are so great to deal with and their customer service is amazing," Carpenter said.
Rohde Pottery Farm is an award-winning and fast-growing clay shop that has everyone talking. They have many items to choose from with great customer service and high-quality products.
Leave a Comment