Counselor Becky Hopper creates Community Closet for students and families
Guidance counselor Becky Hopper and social worker Jenna Booher developed a donation center called Community Closet, in hopes to help students and families in need, with quick and convenient access to clothes, hygiene products and eventually food. The recently made "closet" is less of a closet and more of an organization. Hopper reached out with the idea and was met with an outstanding response of donations and excitement towards the idea.
"There wasn't really a plan at all, it happened really organically out of seeing a need," Hopper said.
Hopper wanted students to be able to obtain clothes in an emergency, and what better place than somewhere students are every day.
Hopper gave the example, "maybe a student stepped in a puddle and needs emergency shoes." In cases where students need a simple and convenient hand, Community Closet can provide one.
Community Closet is also an easy and great way to give back to the school and community. Organizations like GoodWill are wonderful as well, but with the Community Closet students know that their clothes are going to someone who needs them, and it is free for people who need the items.  Donating clothes is a simple way to give back to the community, while also helping the environment. The fashion industry is one of the main polluters of our Earth and Community Closet assures that your clothes do not end up in landfills, but rather with someone who needs them.
"If you are looking to donate or help out, we have needs in our building," Hopper said.
Booher and Hopper have noticed a stigma surrounding donations and when someone might need them. With the casual and convenient creation of Community Closet, they are hoping to decrease the stigma and have it, "grow into something that there is no stigma around." In the future, they hope it can be something students can access whenever they need to without the worry of being judged.
Community closet is also something students can get excited about, and feel inspired to help with. If students want to help their community, but do not know where to begin, this is an opportunity for students to help in an easy way that can help their fellow peers.
"It's something important you can do for other people," senior Emma Rodríguez said.
There are also opportunities to help other than literal donations. Eventually, the Community Closet would love to have a volunteer system. Maybe to help organize, or get the word out. Volunteers could come from NHS or simply be students wanting to help.
"High school volunteers could help organize clothes, or put things away," Booher said. "It would be a great way to utilize NHS volunteer hours."
Hopper also reached out on Facebook to the community, letting people know that she was looking for donations. One local church, Shepard of the Valley, got back to her and has been an amazing helping hand throughout the process. The church even "made it part of their Christmas donation," Hopper said. They not only contributed clothes, but also donated an overwhelming amount of hygiene supplies.
The Community Closet started as a small space and is already growing into an organization. Hopper and Booher have put a lot of time into the donations and are very hopeful for the future. With more donations, awareness, and volunteers, Community Closet will be truly amazing.
Leave a Comment
About the Contributor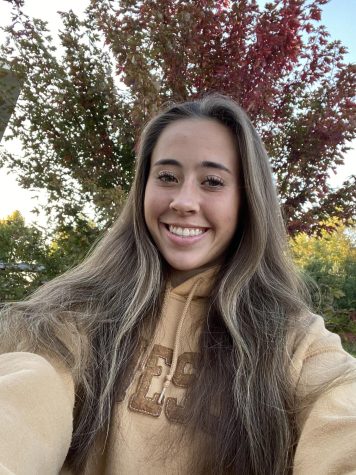 Ellie Dahlstrom, Podcast and Distribution Reporter
Hi! My name is Ellie Dahlstrom, I am a junior, and I am a podcast and distribution reporter. I play lacrosse and soccer and I enjoy singing. I love my...