The Sobiech legacy lives on through donation to U of M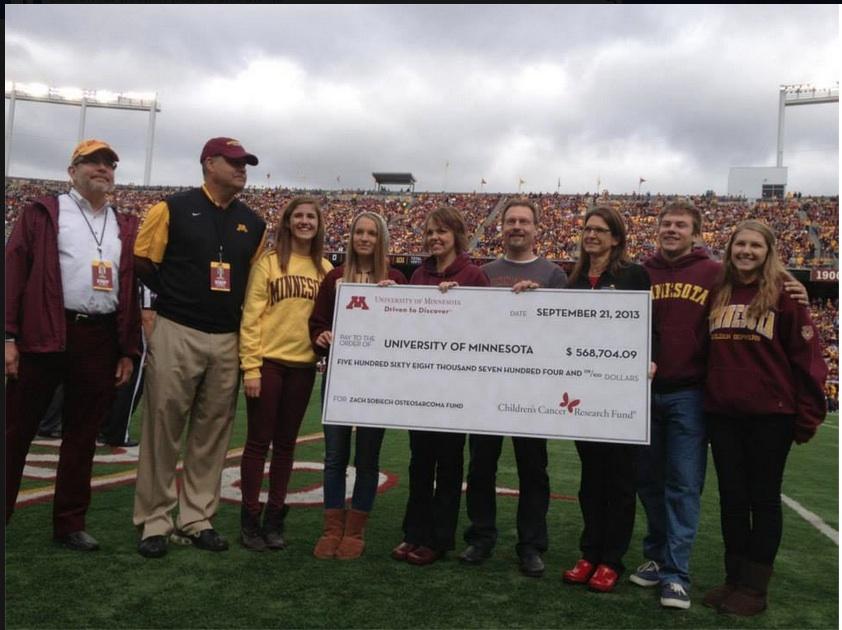 A year before Zach Sobiech was diagnosed with Osteosarcoma in 2009; a cancer research team specifically designated to research the disease was formulated at the University of Minnesota Amplatz Children's hospital in 2008.  The timing was incredible, and Sobiech began the journey of a lifetime personally, medically, and musically.  His music, just like his optimistic attitude, exemplified the promise of hope, even when he was told by his doctors in May 2012 there was not anything more they could do to destroy the cancer and save his life.
"Clouds," Zach's famous farewell, was an instant hit.  Through the support of family and friends, his community, the world-class care he received at the U of MN, and the drive in his heart, Sobiech impacted the world; his legacy lives on.
Months after his passing in May, on Sept. 17, Sobiech's loved ones extended his legacy by presenting the University of Minnesota Medical Foundation with a check of $568,704 in honor of osteosarcoma research.  In doing so, they hope to end this disease all together and eliminate the need for the cancer research team that ironically originated around the time Zach was diagnosed.
"All of Zach's treatments were through the U of M hospital.  He stayed at the U of M Amplatz Children's hospital during chemotherapy and radiation, and it is one of the top ranked hospitals in the U.S. and was such a good place for Zach.  It wasn't far from home, and it was actually a very nice, new place.  Zach often talked about how it felt like a home away from home and how much he loved his nurses.  They made everything as comfortable as they could for Zach.  It was also very fitting that Zach was a huge Gophers fan, and he felt pride in representing the U so positively," said Amy Adamle, Zach's girlfriend of a year and a half.  Amy was with Zach until the day he died.
The money was presented on a beautiful fall day, during a Gophers game.  Sobiech's loved ones were featured during halftime and included:  Zach's parents, Rob and Laura; Zach's sister, Grace; Amy Adamle; and friends, Michaela Chesnut and Mitchel Kluesner.
"It was absolutely incredible!" said Laura. "We had only been to a few games.  Friends and family later told us that it the first time anyone had seen a standing ovation during a halftime program.  The audience clapped for a good five minutes.  It was really heartwarming to know that so many people cared," said Laura.
The team at the U of M is one of the few that is making progress researching osteosarcoma.  The primary goal of researchers is to develop new tests that could predict signs of osteosarcoma early on.  Children, especially, could be screened early on.  Doctors would look for signs of osteosarcoma, such as bone pain or bumps.  The secondary goal is to determine what makes some cases of osteosarcoma more severe than others.  Doctors want to prevent tumors from forming in other organs, away from the initial tumor.  The final goal is to develop new treatments for advanced osteosarcoma, which will be done by comparing osteosarcoma development in mice, dogs and humans.
Currently, University researchers are looking at the human genome.  They are hoping to identify genetic changes that might cause osteosarcoma.  So far, they have discovered that osteosarcoma within dogs is similar to osteosarcoma within humans.  They hope that developing treatments for dogs that have osteosarcoma will be beneficial when developing treatments for people with the same disease.  Clearly, donations such as that of the Sobiech family will help support all of this research.
"We are so incredibly blessed to have so many people that cared about him and his music.  Looking back at everything we have been through in the past couple of years is overwhelming.  No one predicted it.  Even people who have been in the music and recording industry for a long time are surprised at what has taken place.  We are so incredibly proud.  The fact that Zach can live on through his music, which continues to inspire people today, is overwhelming.  The donation is one of many milestones for our family," said Laura.
Laura is in the process of writing a book entitled Fly A Little Higher.  She plans to release the book in May of 2014, around the anniversary on Zach's death.  Fittingly, she plans to donate proceeds from her book to the cancer research team at the U of MN.  "My hope is to raise enough money to cure osteosarcoma," said Laura.
Since Zach's earthly death this past May of 2013, the family is learning to grow and cope without their dear son and brother.  Things have started to settle down causing realization to hit. "We really miss his presence," said Laura, "but his spirit lives on," she added.
"Zach really did change my life forever.  He taught me so much of living every day to the fullest, making other people happy and that the most important thing in life is your loved ones.  I think of him all the time, and know when I look up at the clouds, he is watching down.  He left us all with amazing opportunities to continue the fight against osteosarcoma.  I continue to work with Rock the Cause, who released his music.  It gives me a sense of accomplishment and pride knowing that I can continue to help fulfill Zach's wishes," said Adamle.
Amy is attending the University of Minnesota.  "It is such a great experience and I love the campus.  I am able to work closely with people that Zach knew and still be a part of everything that is going on here with his fund.  I feel very connected, and that has helped ease the pain," said Adamle.
Zach's family plan to continue the fight against osteosarcoma in Minnesota, within the cancer research team that was founded just a year before Zach's rare diagnosis. Zach Sobiech's diagnosis, musical messages, and vast determination, may lead to this disease becoming abolished someday.  For now, glance up at the sky and admire the clouds.  Zach's legacy lives within us all.
About the Contributors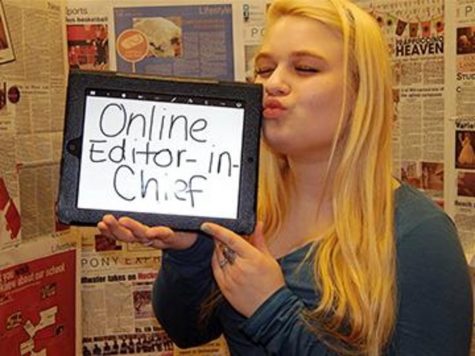 Hannah Crawford, Online Editor in Chief
Graduating senior, Hannah Crawford is as busy as can be.  She expresses her love for journalism through The Pony Express, acting as the Online Editor-in-Chief....