As of October, Dawn Lueck fills new role of Director of Schools
In October, the Stillwater Area Public Schools District welcomed Dawn Lueck to the administration family. She is the first to have the new role of Director of Schools. Her past experiences as a teacher and principal are leading her through this transition into a brand new role as she also tries to adjust to living in Stillwater. 
The new role of the Director of Stillwater Public Schools is meant to be a connecting bridge between all the different schools and principles. Lueck will have to work with 16 schools, 448 teachers, and around 8,300 students grades Pre-K through 12th grade. The role of the Director is very administrative and support based.
Lueck explained "The first part of my job is to support the principles in the schools. So I will work with all the schools. And I think that part is really important." 
The new role of Director is not coming from nothing. Altho the role itself is new this year, the fundamentals of this position have always been needed. However, things needed to be rearranged to be more manageable. Parts of it originate from previous obligations of a principal of an individual school. Other obligations are the same as an Assistant Superintendent.  
According to Assistant Superintendent Jennifer Cherry, "He [Superintendent Dr. Michael Funk] and I talked about our organizational structure. And we had an opportunity to have some roles change and have other departments create room for this position." 
"
I loved working with high school kids, and I really enjoyed being a teacher and having lots of leadership opportunities."
— Dawn Lueck
The administrators of the district need to meet with one another quite often to make sure everything is well-managed and synchronized. These meetings are crucial to the function of not only individual schools, but the district as a whole. And therefore the presence of Lueck in these meetings is vital. 
"We meet pretty regularly," SAHS Principal Bach said, "She [Lueck] has lots of meetings, so we get together at least once a week in a formal setting, but she and I are also involved together on a number of district teams and committees." 
Lueck not only has a past in administration but as a teacher as well. She has actually worked in education as a whole for 35 years. Lueck started out as a Language Arts teacher for seventh grade through 12th grade. Still, once her own children were older she went back to school and finished her administration degree, and worked as an elementary principal.
Lueck mentioned, "I loved working with high school kids, and I really enjoyed being a teacher and having lots of leadership opportunities." 
From being a teacher to now a district director, Lueck has always strived to be a leader. She has always taken opportunities to lead and make a difference whenever they appear to her. It is no surprise she does what she can to protect the matters she cares about. 
"…. I wanted to be at a cabinet level to affect change a little bit more because I'm honestly really worried about public education," Lueck expressed, "And I feel strongly and passionately about it, and we have to have good systems in place. We need to be creative and look at things differently." 
Leave a Comment
About the Contributor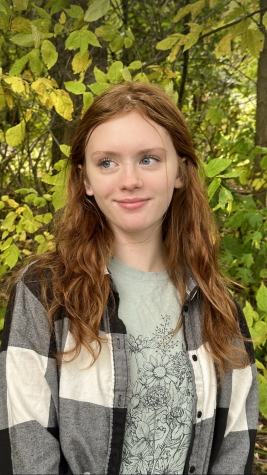 Coral Lariviere, Broadcast Editor
Hi, my name is Coral Lariviere. This year I am a junior and a field reporter. I have many interests and hobbies, some of which are a type of horse riding...