Music groups back on tour this spring
The rocking bus lulled the rowdy music student as they head to their numerous destinations. All music groups are heading on their own selective tours.  They will all be traveling at different times and for different lengths, but they are all excited about the prospect of traveling with their fellow music members. After two years, the groups are finally traveling across the country.
The band is taking two trips this year. The younger bands are going on a trip to Chicago. The older bands will be taking about 100 kids on a 10-day trip to New Orleans. Their trip will be filled with many fun-filled events and will be making many stops in different cities to sight-see. They will stop in Nashville, St. Louis, and many more. They will continue to play throughout their travels and perform fun repertoire that they helped choose.
The band is going to have many fun adventures where they are going to be "experiencing all the different things in different cities," senior Katie Sanderson said.
The choir is taking two different trips to two of their choirs. Belle Chanter went on a three-day trip in March to Kansas City, MO. Concert Choir will be flying to San Francisco in April for five days. They will be going to many landmarks and visiting museums and other educational places. Their two trips will also involve lots of performing in different unique places.
Sophomore Gigi Zawliski is really excited to travel with the choir and is hoping to get a window seat on her first field trip outside of Minnesota.
The orchestra went to Nashville for four days in March. Their tour provided the students with lots of sightseeing opportunities. The group performed twice. They did a clinic to perform in front of a judge and did well. They also went to many museums in their free time along with other famous music places.
"We performed once, but we had a clinic where we worked on our pieces the day before," junior Robbie Schultz said.
The student leaders are helping plan activities for the trips. Conductors would take all the help they could get. The student leaders are able to provide a younger mindset of what the students are wanting to do on the trip. They also help plan the fundraising so the trip is not so expensive. The band has had grocery bagging at Kowlskis and selling chocolates. The choir sold fruits and coupons cards to fundraise as well.
"We have been mainly working on fundraising and putting in our input on different fun activities we would do," Sanderson said.
All the groups are looking forward to their trip. They will all get an educational trip by going to museums and sightseeing. This is an amazing opportunity for the students to see other cultures and experience some little differences in a different way of life.
View Comments (1)
About the Contributor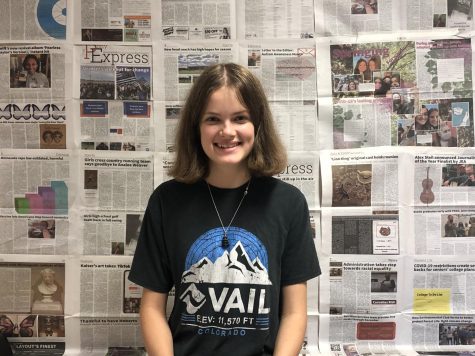 Isabelle Knighton, Layout Editor
I am Isabelle Knighton, a junior, and I am a layout editor for the Pony Express. I am in band and pep band, I also do technical theatre. I enjoy hanging...