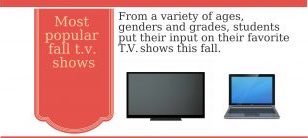 Elise Luoma, Student Playlist Editor
October 15, 2016
Filed under Arts, TV & Film Reviews
The interest in pop culture has sparked viewers in new and upcoming t.v. shows. From recurring to new shows, viewers can find something they are interested in through different streaming platforms. Fall brings many pilot shows, which can vary from comedies to dramas and even to non-fiction doc...
Lexie Sherrick
January 14, 2014
Filed under Arts, Book Reviews, TV & Film Reviews
"One choice can transform you - or it can destroy you." Divergent is a futuristic concept in the dystopian Chicago about about a girl named Beatrice who must choose out of the five fractions for what kind of society she belongs in, or is. The problem is when she got analyzed her results came up for...