Theatre department wins second place in One Act sectionals
In December, the high school theatre department put on Kodachrome, a play by Adam Szymkowicz about a photographer named Suzanne, who takes the audience into the lives of people living in a small town called Colchester. The play deals with the topics of love and saying goodbye. The cast also performed this show for the One Act competition, a yearly competition for schools throughout Minnesota. Stillwater tied for first in sectionals, but was awarded second.
Like many events this year, theatre adapted to COVID-19. That meant coming up with creative ideas and putting safety measures in place: the actors performed in front of a green screen and it was live streamed so viewers could watch online.
For the One Act competition, schools could not perform live. Instead, they submitted tapes. Participants had two options: in-person format and videoconference format, for the in-person, schools can film their play in one take, with no editing. For the second option, schools performed their plays on platforms such as Zoom, Google Meet, etc. Stillwater decided to do in-person filming.
"We had to film the one act with one camera in one position, but it could zoom in which was different. We also had no audience to play off of so sometimes it was difficult to tell if we were having an effect or not," senior Olivia Henson said.
They ran into another problem, however, because the play could not be more than 35 minutes. The original performance was a little over two hours.
"We took six of the original characters: the photographer, hardware store owner, librarian, gravedigger, florist and young man and created a completely different show around them," Henson explained. "What I mean is, we found just those six characters conveyed a different story from the one in the fall and it was beautiful."
"
I have written more than 50 plays over the last 20-something years and I have to say, this one is my favorite."
— Adam Szymkowicz
The judges had to take into consideration certain factors that were different this year than others.
"They have a rubric that they use for the Minnesota State School League, they look at physical characterizations… concept and style of the production…  All the elements of makeup and sound," Sadow explained about what the judges look for.
"I was looking for a competitive piece that would showcase the students. As I was reading through scripts last year, when I got to Kodachrome, it was really well written and it just had everything in it that makes it a good one act to produce," Sadow said about about why Kodachrome was selected.
Kodachrome author Adam Szymkowicz agreed, "Yes. I hoped it would be. I've had plays in the past that I was surprised high schools have done but this one makes sense for that."
"I have written more than 50 plays over the last 20-something years and I have to say, this one is my favorite." Szymkowicz said. "There's a moment in the monologue the Photographer gives at the end of what used to be the act break (before it starts raining) that always sends a shiver down my spine."
Stillwater tied for first in sectionals and won second place overall, but the cast was happy to be "performing" again, no matter what place or awards they won.
"I am so proud of the team and the message we were able to portray and the hard work we put in. It was most definitely worth it for that. We tied for first and I couldn't be more proud," Henson added.
"I learned that art continues. Students will rise to the occasion that's given to them, they persevered and created amazing art and didn't let the environment or the state of the country right now get in their way," Sadow concluded.
About the Writer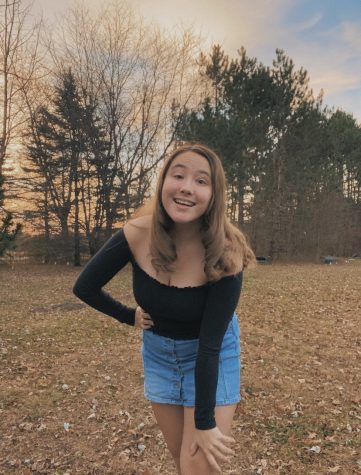 Briah Azure, Graphic Editor
My name is Briah Azure and I am a graphic editor for the Pony Express. I am also a junior this year. I play tennis during the summer and fall and I like...