The Trump Administration's steps to a corona-less nation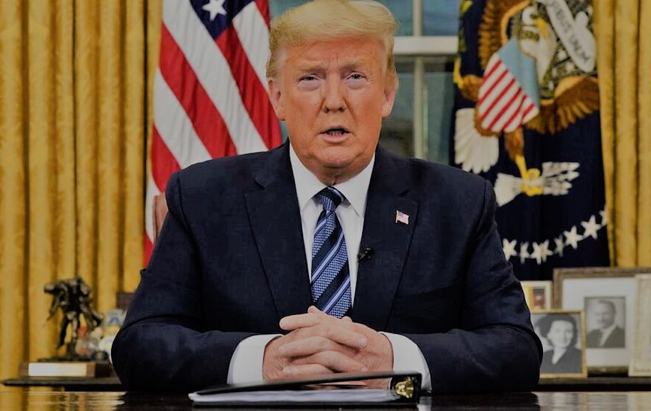 The coronavirus has shocked the world in its quick and destructive expansion. Just months after the virus originated in China, the World Health Organization (WHO) has officially declared coronavirus a global pandemic. With the threat reaching America, and much of the country moving into quarantines and lockdowns, coronavirus has left Americans confused and scared.
President Donald Trump delivered a National Address on the coronavirus March 11. In his speech he declared the virus a "national emergency" and described his administration's plan to stop the spread, explaining that by taking these "tough measures, we will significantly reduce the threat to our citizens."
Although travel to and from China had previously been restricted, Trump's first step was to further restrict travel. His goal is to keep more carriers of the virus out of the country and to prevent carriers bringing coronavirus into any other countries. With proper screening for cargo and Americans, there are some exceptions.
"We will be suspending all travel from Europe to America for the next 30 days [starting March 13]," Trump said.
Financial stability has been another concern expressed by Americans. Many working Americans are not able to go into work due to social distancing, their place of work closing, having the virus, being quarantined or caring for someone with coronavirus. Not only has coronavirus affected citizen's financial stability but also the stock market. Due to coronavirus, America's stock market hit the lowest it has since 1987. 
To combat this fear, Trump is taking emergency action to provide financial relief to those working Americans who fit in those categories.
Alongside those financial hardships come the burdens of paying for treatments and insurance. With less availability to work, paying for these services becomes more difficult.
"
We will be suspending all travel from Europe to America for the next 30 days [starting March 13]."
— President Donald J. Trump
"Earlier this week I met with the leaders of the health insurance industry who have agreed to waive all copayments for coronavirus treatments, extend insurance coverage to these treatments and to prevent surprise medical billing," Trump added.
Additionally, medical supply shortages have swept the country. Hospitals and doctor's offices alike have had to make adjustments to keep up with the copious amount of coronavirus cases being diagnosed. Respirators, face masks, hospital gowns and surgical gloves are some items health care professionals are dealing with shortages of.
According to the FDA, they are "working around the clock to monitor and mitigate emerging coronavirus issues through collaborative efforts with federal partners, international regulators, and medical product developers and manufacturers to help advance response efforts to combat the COVID-19 pandemic."
With the constant rush of patients, the difficulty for hospitals to ration out these supplies increases when many need them. In Trump's National Address, he discussed his plan for this.
A week previous to his National Address he signed into law a "$8.3 million funding bill to help CDC and other government agencies," to fight coronavirus and support funding for these important supplies.
Many Americans felt that Trump's speech did not calm their fears and still left many questions. They argue that it did not feel hopeful and felt completely scripted. Others would argue he is doing his best in the given situation.
In an opinion piece for CNN, reporter Peter Bergen stated he felt Trump's speech highlighted some of his biggest weaknesses of "his failure to do any homework, his narcissism and his half-baked policy ideas." He ended the article with the opinion that as president, Trump has not risen to the occasion.
Social distancing are now two well known words throughout the country with Trump suggesting no gatherings larger than 10 people and when in public being six feet apart from another person. The government is urging for people to self-quarantine to help ride out coronavirus.
"It is critical for you to follow the guidelines of your local officials who are working closely with our federal health experts," Trump said.  "Smart action today will prevent the spread of the virus tomorrow."