4-H benefits students by providing empowering life skills
Hang on for a minute...we're trying to find some more stories you might like.
Numerous students benefit from the 4-H organization. Apparent impacts are made through the students following their passions and blossoming their relationships. 4-H is a youth program all over the country based on empowering students and providing them with skills to last a lifetime. They offer different assortments of activities to appeal to everyone.

"If you join, you're automatically in the 4-H family. 4-H just really gets you out of your comfort zone and shows you what there is to offer," junior Abbey Rademacher said. 

4-H has over 6 million members nationwide. They are known for hosting a diverse group of students. They pride themselves on providing equal and positive opportunities to everyone. Students have chances to work together doing activities they are passionate about. 

"No one is really judged in 4-H. We don't stay excluded from everyone else," Rademacher explained.

Students have chances to work together doing activities they are passionate about. 

"[4-H] has offered a very good environment for me to make friends and to grow as a person," senior Brandon Pott added. 

Although 4-H is most well-known for their animal programs, they have much more to offer. Through 4-H, students are able to explore numerous new activities and focus on their passions. They are able to participate in multiple programs at once to get a bit of everything.

Rademacher mentioned clubs such as cooking, animal programs and musicals. Pott added that 4-H also offers photography and workshop programs.

Along with offering fun clubs, 4-H benefits students in other ways. They assist them in gaining life skills they use as they grow up and provide a supporting environment.

Pott said he learned, "self discipline and how to manage projects" from 4-H.

"

"I've gained huge public speaking skills and just really opened myself up to new opportunities.""

— Abbey Rademacher

Rademacher added.

4-H benefits more than just the students. The organization brings students, families, and friends together. Due to the various activities in the public, it brings communities together and gives the students a sense of neighborhood citizenship.

"I think there is great benefit not only for the members, but their families and communities. It truly is a family experience and the friendships and connections made will last a lifetime. 4-H engages youth, in partnership with adults, in quality learning opportunities that enable them to shape and reach their full potential as active citizens in a global community," Megan Slater, Extension Educator of Washington County 4-H said.

In order to help the students, 4-H has adult mentors. These mentors are volunteers; many are parents and some are closer to the students age. 4-H also has an alumni program inviting alumni to return and help within the organization. These mentors promote empowerment and support the students, along with dealing with organizational aspects.

"They really are the ones that get all the stuff ready for us. They just show us what needs to be done and really motivate us to finish everything," Rademacher explained. "They create a good community within 4-H."

The directors of 4-H start programs and work with the whole organization. They bring together adults, youth, and the community to create well-rounded and beneficial experiences for students. They enjoy working with people and leading alongside youth.

"I am drawn to be a leader in this organization because of the amazing youth that I get to work with. They are wanting to be engaged in their communities and improve their skills," Slater said.

The students involved in 4-H highly recommend it as a program worthy of joining. Past and present students have reached new levels in their passions by being a member of 4-H. The program has proven to have succeeded in helping empower students and further their involvement in what they are passionate about. 

 "4-H is really good if you have special interests that you would like to keep pursuing and get better at," Pott said. 

"It's like a second home I guess," Rademacher said. "4-H has so many people that are more welcoming than anywhere else." 
About the Contributors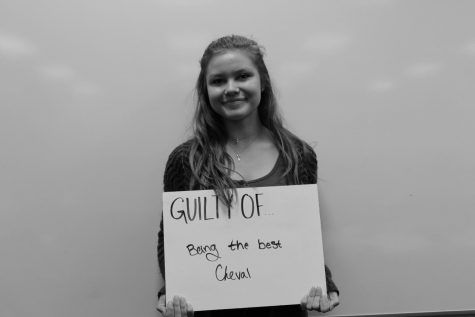 Elaina Mankowski, Layout Editor
I'm Elaina Mankowski and I'm junior. I'm a Layout Editor for the Pony Express this year. I am captain of the Chevals Dance Team and I also dance...