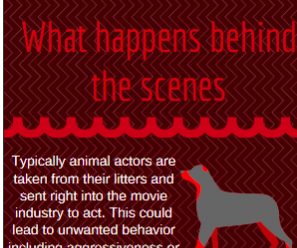 Noah Johnson, Distribution Reporter
February 17, 2017
Filed under Editorial
Over the years, many filmmakers have used, "No animals were harmed" disclaimer in their films. Little do people know what these filmmakers have gotten away with on film and behind the scenes. With animal abuse still happening behind the scenes, the films should not be able to use the "No animal...
Stephanie Nielson, Photographer
November 17, 2014
Filed under Political Opinion
Genetically modified organisms, commonly known as GMOs, are organisms that have been genetically enhanced or modified by scientists for various purposes. They are commonly found in the foods consumers eat every day. Scientists engineer these organisms by using DNA from viruses, bacteria or other plant...