Animal surrenders rise post quarentine
Adoption in any form stands as a responsibility one must be ready to take one, no matter what it brings. It takes time and extensive consideration. During COVID-19, the adoption rate for animals soared in response to the free time people now had. Families who had previously considered having their animal sprung at the opportunity to include a new member of their family. But as quarantine continues and time goes on, many adopted animals are finding themselves back in the shelter after being surrendered. Animal adoption agencies, like the Animal Humane Society and Home for life, have been overwhelmed by the rise of animal surrenders, whether they be returned from families who could no longer afford to take care of them or families who regretted their decision. 
As many people in the United States grappled with newfound time on their hands, animal shelters and breeders saw a significant rise in the demand for new animals. There were many motivations for these adoptions; new time, a welcome distraction, or the want to avoid being alone. 
When junior Kyra Kellogg spoke about her family's decision to adopt an animal, she said, "On Easter weekend, and we saw like this cute little dog at the park… then we had like weeks-long discussions of whether or not we should get a cat or a dog… We had to do a lot of research and things. We ended up getting a little poodle because we wanted a dog." 
After the initial rise in animal adoptions near the beginning of our nationwide lockdown, shelters have seen a significant rise of animals surrendered. To surrender an animal means, due to some reason, the owner of an animal can no longer provide for their pet. A rise in animal surrenders are not something occurring solely in Minnesota, but an event occurring around the United States. 
Lisa LaVerdiere, Executive Director of the Shelter Home for Life, said, "We have about 112 dogs. And I would say you know maybe 10% of them, currently have come from situations that I described… where they cannot afford the care of the animal anymore or somewhere you know they have had to move into different kinds of housing and cannot because of money problems… where they have been abandoned at a shelter or animal control, or the dog cannot find a home."
The surrender of animals, no matter the motivation, can have a severe effect on the animals mentally and emotionally. It is not uncommon for these animals to struggle with mental health or behavioral issues as a result. 
 On this topic, LaVerdiere added, "The things that they (adoption and shelters) do not want to talk about is the fact that most animals for the duration of their life do not keep their original home."
Around the United States, animals are being rehomed or surrendered for a plethora of reasons. Financial struggles being the main contributor to the rise in animal surrenders. Many animals, surrendered or not, are now living in poverty due to COVID-19.
In a public statement on his blog, Matt Bershadker, ASPCA President & CEO, said that the financial crisis stands as a concern of his organization. "We need to help families care for and keep their animals at home when appropriate by improving access to critical medical services, pet food, and supplies in communities that need them most… To ensure financial conditions never put pets in jeopardy or prevent pet owners from experiencing the joy and companionship that comes from having animals in their lives." 
"
I think a lot of people are adopting animals, kind of as you know a balm to soothe themselves during this time."
— Lisa LaVerdiere
LaVerdiere echoed this sentiment and added, "You know what is interesting, there are a lot of animals being adopted, but there is also a lot of stress among people, and households financially. You know people have lost their jobs, kids are home, so parents are having to teach kids and there is a lot of sort of free-floating anxiety."  
Another factor to the rise of animal surrenders, new adopters are reanalyzing their decision to adopt; either realizing they cannot provide for the animal in a long-term manner or realizing they may have acted on impulse and do not truly want an animal companion.
When asked about this motivation for the surrender of an animal, LaVerdiere said, "I think a lot of people are adopting animals, kind of as you know a balm to soothe themselves during this time. While they are having to stay home and maybe have a lot of time on their hands, but, you have to adopt an animal in need. From a position of wellness and wholeness and not because of your need."
Many things can happen when an animal is surrendered. This often depends on where the animal is rehomed too. Specific facilities, like Homes for Life, specialize in the care for animals are regularly surrendered, struggle with being adopted, or have spent most of their lives in shelters. 
 LaVerdiere stressed the importance of offering stability to these animals because of the "huge difference it makes for animals, to have that stability and security of knowing where they belong." 
In times of stress like this, it is imperative to remember, the adoption of anything takes care and dedication to the being. As animals are welcomed into new loving homes, those in need are returned to shelters and adoption agencies. These animals need love and care, either from their homing facility or their new families. The importance of the care of these animals grows more than ever as we navigate through stressful times. Stressful times can be made easy with a carefully considered animal companion. 
About the Writer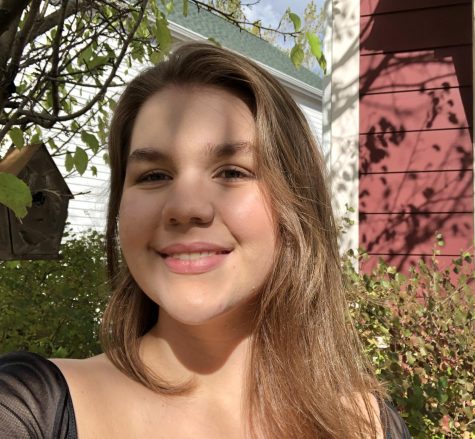 Sophia Arndt, Photography Editor
Hi! My name is Sophia Arndt, I'm a junior at SAHS and I work as a Photography Editor. While I'm not a part of any clubs but I love to go for bike rides...