Luke's swim team legacy breaks records
Swim coach Brian Luke's legacy is record breaking. He gets the girls swimming and diving team to be the strongest it can be. His father, Elmer Luke's legacy is also record breaking, because of this Luke started coaching when he was only 22 years old. The legacy between him and his father has gone back years and years.
Luke got accepted into the Minnesota High School Coaches Hall of Fame Sept. 3. He got recognized at city hall at a city council meeting.
"At first, it's humbling, it is kind of fun," Luke said, "My dad was in that, also my uncle was in the swimming coaches Hall of Fame not the coaching Hall of Fame. So, it was kind of a legacy."
Many parents, boys and girls from both the boys and girls swimming and diving teams came to city hall to support and cheer on Luke as he was receiving his recognition. His wife, Jane Luke also got recognized for all of the hard work and volunteering she puts into both teams.
The Stillwater girls swimming and diving team has a legacy of its own. They own the record for most consecutive dual meet wins in the state of Minnesota at an astonishing 161 wins and counting since 2003.
"For the first years we had 11 girls," Luke said, "and then after that, we jumped into the 20's. So it is hard to imagine 89 from trying to predict ahead. We went from the smallest to biggest."
This record and legacy has been going on for generations so the team is hoping that it will go on for much longer.
The girls team has also won seven True Team titles.
"I did his club in the mornings so I knew that it was like a big thing and that he was accomplished," sophomore Bella Chau said.
"
We are racing to be the best we can be for the team."
— Annika Freden
The girls team won the first ever True Team state and then won it 6 more times consecutively after that.
The girls team has won 4 state championships in the history of the team. They try and reach for number 1 every time they compete.
"I like the experimentation and the physiology and the physics and everything else that's going on here," Luke added.
He likes to watch the girls grow and become better swimmers throughout their time on the team.
Luke has been coaching the girls and boys swimming and diving teams for 45 years. He wants to keep going for as long as he can and enjoys it everyday.
"He makes sure that we are all working together as a team and it's not just people racing for their best interests," Junior Annika Fredeen said. "We are racing to be the best we can be for the team."
The whole team relies on one another to be as successful and as strong as they are.
The legacy from Luke goes back to his father Elmer Luke. Elmer had the record when he was coaching East Ridge Swimming and Diving team and then it got passed down when his son Brian Luke beat it in 2015.
"The program is not funded for me it's funded for the athletes. But I guess they still let me stick around," Luke said.
The swimmers look up to Luke and know that he has their best interests at heart.
Luke didn't even start the streak until he was 21 years into coaching. It took years for Luke to get to the level of coaching that he is at now.
"He brings the whole team together," Chau said.
Most swimmers don't think that the team would be at the level of skill that it is at now without Luke as the coach.
Lukes legacy will live on through his swimmers and all the achievements that he has made.
"And also try to develop in them the ability to understand being disciplined and thinks like that it's actually advantageous to everything you do, not just this slipshot thing we do everyday," Luke added, "but try to at least for a few hours a day kind of expected to do things in a disciplined manner. I still truly enjoy practice."
Luke hopes to see the girls team improve and do the best that they can this season. They have many more meets to come this season and hope to add more wins to their record.
About the Contributor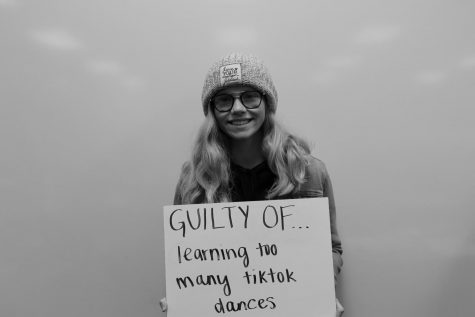 Grace Sneden, Business Editor
My name is Grace Sneden, I am a junior business editor. I am on the swimming and diving team, and the synchronized swim team. I love animals and enjoy...