Girls synchronized swim team tries to stay in sync with past history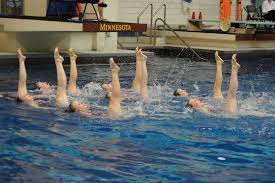 The synchronized swim team has a long and successful history. They have won won 18 state championships, 22 section championships, and 79 All-State swimmer titles.
The team ranges from 7-12 grade girls and requires a love of swimming, music, choreography, creativity, as well as stamina, athleticism and dedication to a team.  The season runs from March to May and the practices are Mondays through Saturdays. During the season, they have all sorts of different kind of meets or events like figure meets and routine meets.
Synchronized swimming is a sport that for many people goes unrecognized, but with such a successful past the Ponies receive plenty of glory. This year they have a solid senior class with many talented underclassmen who are ready to prove themselves.
"Our team has consistently been amazing, we've never gotten anything other than first or second at state, so I have high expectations for this year. It seems like everyone's been doing a good job of staying in shape doing club synchro, so I think we'll pretty much be able to pick up where we left off last year," senior captain Kelly Keenan said.
 Synchro swimming is very different than other forms of swimming.  Rather than swimming laps back and forth, teams of girls have to work together to perform a choreographed routine in front of judges.  
In a sport where girls have to work together to perform, teamwork is vital.  Teams consist of four to eight people, but smaller teams have a harder time earning points because they are docked points. Larger teams are rewarded more easily, while smaller teams have to work harder to build up their points.  
"A synchronized swimmer must be a good swimmer first.  Once they have mastered basic swimming skills, then they can learn and build their synchro skills.  Synchronized swimmers need to be fast and athletic like regular swimmers, but they also need to be musical, creative, and enjoy performance.  It is sort of like combining swimming with gymnastics, dance, and strength-training all in one while holding your breath," head coach Kathy Henderson said.
Being in sync can be a very difficult thing to do with other people, but to do it in water is a whole other situation. The girls have to first have to build up there stamina to be able to perform. They practice holding their breaths sometimes because that is what they have to do when they are doing a competition, along with doing different water movements.
"With regular swimming it's more of a forward motion. But with synchro you're moving up and down and backwards and side to side" Keenan said.
The ponies start there competitions beginning on March 28.  They will have six regular season meets this year, followed by section and state championships.
"One of my favorite parts of synchronized swimming is putting on a good show for the crowd, I love to entertain and have a fun time at the same time," Keenan said.