Girls softball aims to win back-to-back state titles
After winning the class 4A state title, the softball team is preparing for another successful season. Tryouts are over and the teams are decided. The girls are determined to keep the same energy and focus they had as last season.
Although the early March practices have been held inside, it does not stop the girls from working to win another championship. Along with daily practice, the team believes the most important factor to winning state is their strong team bond.
The girls will continue to hit, pitch and catch indoors until the fields are softball ready. Weather permitting, they hope they can practice outside in game-like conditions.
Junior Haley Eder-Zdechlik said, "The team needs to get good practice in and have an even better work ethic than they had last season."
Similar to last season, Cottage Grove's team will be their toughest opponent. But winning against Park in the championship game gives them an edge going into this season.
"Park is probably our biggest competitor, but I have a lot of confidence in my teammates," sophomore Allison Benning said. "I think we can pull it off again."
"
Stillwater has been a big part of my softball career, and for my last year I'm just going to give it my all."
— Tori Chute
There are 12 girls returning out of 19 from last season. After playing together for several years and a lot of team bonding, the girls know how to work together to win games.
"We are all really good friends, and they always help me play smart," Benning said. "I think that's why we have so much fun and success."
Senior Tori Chute has a big part on and off the field. As a captain, and catcher she hopes to lead her team to win their conference, section and all the way up to state.
"Being a catcher, you're of like being the quarterback," Chute said. "I get to be a leader to my teammates on the field and that's really fun for me."
The Ponies have a strong and fast team. But this season they hope to improve the number of hits per game.
"Something we could improve on is our hitting," Eder-Zdechlik said. "We have been working hard to improve that part of our game."
For four seniors this will be their last season playing for the ponies. Chute will be continuing her softball career by playing for Augustana University.
"Stillwater has been a big part of my softball career, and for my last year I'm just going to give it my all," Chute said.
With hard work and determination the girls hope they can play to their full potentials to protect their state title. The softball team's first game is against Roseville on April 4.
About the Contributor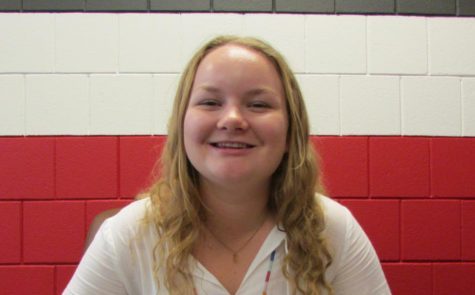 Annika Brown, Business Editor
My name is Annika Brown, and I am a junior. I am a business editor for the Pony Express. I play on the Stillwater girls golf team. I enjoy traveling, and...