Black History Month represents growing community for students of color
Abby Banks, Print Editor-in-Chief
February 23, 2019
Black History Month saw different events celebrating the cultures of students of color. Via panels, showcases, dancing and culturally significant music played during passing time, Black Student Union and Student Council worked together to host events throughout February.
Black Student Union is entering its second year and increasing its presence in the larger community. With increasing diversity in the predominantly white community of ISD #834, the administration has been pushing for this to be reflected in upper schools.
"
I think that the important thing about Black History Month is to really have those people feel like they're important and feel like what they say and what they can do really matters."
— Abdul Mohamed
Principal Robert Bach approached the Student Council in late January to ask them to involve themselves in this year's Black History celebrations. BLAST (Being Loving And Sharing Together) Week kicked off the agenda, with events from panels of students discussing racial issues to hip hop dancing lessons.
"For me, it's about community," Fatima Menawa, senior Co-President of Black Student Union and one of their founding members, said.
Black History Month is predominantly geared toward establishing a community amongst people of color here. The significance of finding a voice extends beyond just the Black Students' Union itself and into opening dialogue or magnifying the voices of marginalized groups, according to Menawa.
"I think that the important thing about Black History Month is to really have those people feel like they're important and feel like what they say and what they can do really matters," senior Student Council President Abdul Mohamed said. "I think that that's really important, especially to me and Nikhil [Kumaran] because we do take pride in being the first African Americans to be Student Council president."
Student Council Advisor Dusty Dennis aided the communication between the organizations, as did teachers Mike Kaul and Corey Quick. The black population of the school, at 3.7 percent, does not see their ethnicity reflected in any of the teachers.
"We want black history to be coming from the students that it most affects, which is our black students in our school," Dennis said. "So we're really trying to push them to say, 'What matters to you? What do you see? What is important to you?' Instead of, you know, a bunch of white teachers or white students going, 'Hey, we're going to celebrate you and tell you how we're going to celebrate you.'"
Though Black History Month focuses on black excellence, the high school acts as host to an Asian Students Union also involved in supporting the events. Menawa hopes to include other students of color in Black Student Union in the future, including the districts underrepresented Latinx community.
"But one thing we also wanted to do a Black History Month for was that it's not just black success but it's also Latino success," Mohamed said. "Why success was able to help the blacks rise up from the oppression that has occurred throughout history. It's not just comprised of blacks, it's all of us together to be able to have that dialogue."
In years to come, both groups hope to see the event grow and for more people to be involved. The school district estimates that the persons of color population will grow to be 12.3 percent of the total population, majorly concentrated in the rapidly growing southern district and younger in age.
"I want to see is more mentorship between the high schoolers and the younger kids," Menawa said. "Just invoke showing pride for who we are, because what I've learned is that the lower you get in grades, the more diverse the classes get. So I feel like, especially here in Stillwater, there needs to be representation shown in order for those students to be successful. They need to see us being prideful."
About the Contributor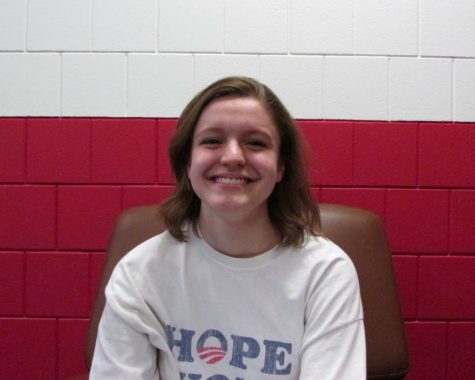 Abby Banks, Editor-in-Chief
Abby Banks is a senior and is a Print Editor-in-Chief on the Pony Express. Her favorite fruits are pineapple and passion fruit. She is junior officer of...