Youth United Way creating smiles throughout community
The money raised by Youth United Way is great, but the smiles they create may be more valuable. The group is lesser known at the school, but they do plenty for the community.
Youth United Way is an opportunity for youth in the Stillwater area to lead in helping other youth. With a little help from the United Way they put on numerous events and raise a lot of money.
"Basically it's all student organized. They arrange all their own things, I'm just here as a mentor if they have questions or need help with something," Lois Raboin, United Way Adiminstrative Office Assistant said.
The group has about 25 student volunteers participating. The group meets every other week in addition to the events they put on. Not everyone attends the meetings, but they come when available. Students in grades 8-12 are able to participate.
"My friends were doing it first. I learned it was about volunteering," sophomore Joe Sanderson said, "I was interested to join because I wanted a way to give back."
"
It's a really good feeling when you can get face to face with people in need and actually help them. Being able to give them something they can look to"
— Joe Sanderson
The students do more than give back however. They gain experience and learn lessons through the club. That is part of what keeps them coming back.
"Hopefully they participate because they get something out of volunteering. I know the senior high has a program where they can letter and I'm hoping our kids sign up and do that," Raboin said.
The students also learn how to raise money for local charities. They learn how to best use the money and the value that the money has.
"It teaches them where a dollar goes. If somebody donates $100, where that dollar can be most useful. The agencies love having the youth come in," Raboin said.
The money raised comes from events that Youth United Way runs throughout the year. The club does both fundraising events and community service projects. Earlier on Halloween the group had fun painting pumpkins with youth in the community.
"The biggest event is our Empty Bowls which is a big fundraiser at the senior high," said Raboin. "They have small projects they do throughout the year," she added.
While the Empty Bowls event is later in the late winter, they group's biggest upcoming event is Breakfast with Santa. That event will take place on Dec 12.
At a recent meeting senior, Kate Kugler said, "[Breakfast with Santa] is not our event per se. It's at Valley Ridge Mall. All the business get together and do arts and crafts."
Some of the events raise money for youth and hunger organizations. The Empty Bowls fundraiser involves local restaurants and artist. It raises around $4,000 each year. However, sometimes it's more than just raising money.
"It's a really good feeling when you can get face to face with people in need and actually help them. Being able to give them something they can look to," Sanderson said.
Members of Youth United Way enjoy working with the community and people in the community love working with them. The money is helpful to the community, but the joy they bring is just as important.
"You see kids and even some adults and they get so happy when you're there and you can work with them. It's good for them to be able to go to these events," Sanderson said.
About the Writer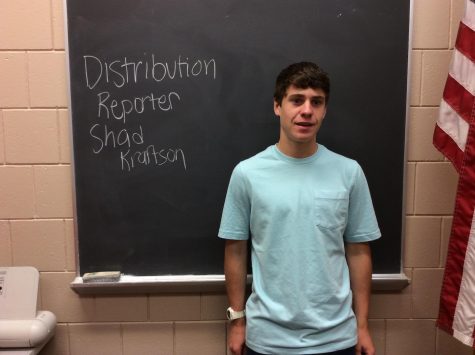 Shad Kraftson, Distribution Reporter
Shad is 16 years old and a junior at Stillwater Area High School. He is a Distribution Reporter for the Pony Express. Shad is also a nordic skier and cross...