The past and present success of the boys Cross Country team
The boys cross country team had been extremely successful in the past and still is today. They have won multiple state titles, regional tournaments, they have even competed in national tournaments and they continue to have great success every year.
They have been so successful for so long partly due to the long time coach, Scott Christiansen. They have very rigorous practice schedules which requires the runners to be in top shape. A great coach combined with hard work at practice means a lot of success in meets and tournaments.
Coaching is a huge part to the success of any team. Christiansen is an extremely successful coach and knows what it takes to have success as a team. He pushes his guys hard in practice and they all work hard knowing that is they do they will be a very successful team. All of the runners have respect for their coach and know they need his leadership to help them win.
Junior runner Daniel Hammer said, "Having a well experienced and successful coach like ours gives us an advantage over other teams because we have a proven way of practicing that allows us to do well in our meets. Where as other teams might not have a coach with the same knowledge as our coach."
"
We want to continue on with the greatness of Stillwater's cross country team."
— Henry Seeb
The cross country team has been dominant over the past years and continues its dominance today. They are currently ranked number four in the state and have won five of their seven meets. They have a very talented group of guys, the fastest being Eli Krahn, who has won three races already. They have created a culture where the guys work hard and are invested in Christiansen's system.
Senior runner Henry Seeb said, "All of the guys including myself, love working on getting better, we know that if we work hard we will have a successful team. We want to continue on with the greatness of Stillwater's cross country team."
The team has been extremely successful in the past. They have won five state titles, the have won national tournaments, and they have consistently been ranked in the top 10 in the state. They have had some of the fastest runners in the state and currently have one of the fastest running right now. The team has produced great runners and great teams year in and year out because guys want to be a part of the greatness of Stillwater cross country.
Chritiansen said, "When I first started coaching at Stillwater we didn't have a lot of guys come out and we were finishing in the lower half of the conference. In about five years, we had doubled in numbers and guys started putting in extra time in the summers and on the weekends to get better. At this point we had begun to become a more successful team."
Christiansen added, "I haven't seen my best team yet, that is still to come in the future. The best team I had in the past is the 1997 team that won the High School National Title."
Cross Country has been on the up rise ever since coach Christiansen got here and in his eyes thinks the program will continue to get better. Guys have put in hard work and dedication to the sport and have gotten great results. They have a great, experienced coach, they have guys who are willing to work hard, and they have a lot of very talented runners. The cross country team has been great in the past and looks to continue its success in the future.
About the Contributor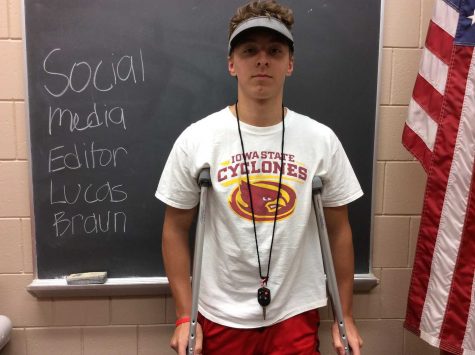 Lucas Braun, Social Media Editor
Lucas Braun is a junior at Stillwater High School. He plays football in the fall and basketball in the winter, spring, and summer. He enjoys watching sports...