Jewelry trends making comebacks
From cheap chokers to expensive watches, students are willing to buy it all. Many high school students have jewelry interests that were once a hot trend and are now making their way back in style.
Chokers, watches and rings are just a few of the trends making a comeback this fall. From students creating and selling their own accessories to high end trends, there are many options for students to express themselves.
"
I wear them because they pull my outfits together, they are so cute."
— Brooke Espelien
Chokers are a tight fitting necklace that usually comes in black and is commonly worn by females. This look is known for giving off an 'edgy vibe'.
"You might feel like you have traveled back to another place and time. Fear not. It is true that the once highly-sought-after look of the choker necklace has made a comeback," 5th Avenue Style announced this upcoming necklace trend recently this year.
Junior Ava Howard is helping bring this trend back locally in Stillwater. Over the summer she made and sold chokers for $14 each through social media, an online site and in person.
Howard said, "I really like them because I think they add a little edge to an outfit. I used to have so many when I was young, and they kinda went away for a while but I think they came back because so many different, new styles have come out."
Watches have been a classic trend not only with girls, but guys too. They add a look of professionalism while still staying trendy and efficient.
With multiple watches to choose from, senior Brooke Espelien wears a watch everyday.
"I wear them because they pull my outfits together, they are so cute," Espelien said.
As the fashionable expensive styles have gained popularity, Apple and Android have also recently released their own versions of electronic watches. These watches not only provide you with the time; messages, apps, and the ability to call are all accessible on your wrist at one pricey cost. The estimated cost for the Apple watch starts at $349.
"I think the popular watches like the ones you see on Twitter are awesome! Apple watches on the other hand I do not like, they are too expensive and an overall waste of money," sophomore Austin Mueller said.
A commonly shopped department store, Nordstroms, sells watches, the most popular and trendy watches sold are Michael Kors, G-Shock, Kate Spade, and Coach. As high school students the costs of some of these seem out of our reach, but luckily the off brand of watches are becoming more commonly worn and gaining popularity.
Cheap alternatives to those who cannot afford the expensive Michael Kors and Coach are easily found at Charming Charlies and Francesca's. They have look-alikes that mimic the expensive watches while also staying within a high school students budget.
Girls are now wearing a wide range of styles from vintage to modern. Rings are also being commonly worn layered and on both hands.
Junior Ellie Smith is a great example of this trend. Her favorite rings are not only trendy, they have lots of meaning behind them as well.
"I usually wear this sapphire one that my grandma gave my mom when she joined kappa delta, I also I wear my moms old wedding band because it's very pretty has sentimental meaning behind it," said Smith.
Pandora, a high end jewelry store has recently advertised their rings as 'stack able' and ' a new layered look' for cheap. These rings range from $30 and up. If you are looking for a more different and original look to your rings, Art and Soul in downtown Stillwater provides that.
Chokers, rings and watches are all jewelry trends you should keep your eye out for and maybe even try out a new style this year. These trends not only help bring attention to your outfit, they give character and an original look.
About the Writer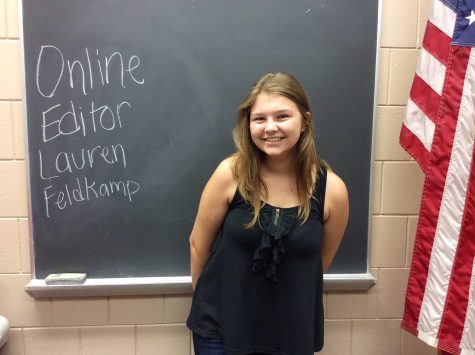 Lauren Feldkamp, Online Editor
Lauren Feldkamp is a junior at Stillwater Area High School. She is an Online Editor for the Pony Express newspaper. She also participates in art club at...