Assistant Principal Matt Kraft joins SAHS from Woodbury
Dylan Cook, Visual Arts Media Editor
October 20, 2015
This year Stillwater Area High School brought Matt Kraft into the district as a new Assistant Principal. This addition will bring a new personality and set of skills to the district.
Kraft began his time in the beginning of this school year. He is filling a position that was previously occupied by Assistant Principal Mary Leadum Ticiu. With an abundance of experience in other schools Kraft has the skills required to succeed in his position. With the major changes that lie ahead, Stillwater needs individuals, like Kraft, to lead and direct students and staff.
Experience is an important part of a person's ability to be a leader. Kraft has years of experience in school administration and it is apparent in the way he interacts with the school community.
"I was at a middle school as an AP and I was at a high school as an Athletic Director," Kraft said, "I most recently was at East Ridge High School for seven years."
Kraft's past will be of great use to Stillwater moving forward. With the addition of ninth graders to the high school and a multitude of expansions to the building there is going to be a great deal of administration needed. Along with his experience at East Ridge High School and Henry Sibley High School, Kraft has also helped with a very similar transition. Kraft is slated to be a major component to making the transition quick and elegant.
"He's got some unique experience handling a schools transition to include ninth graders," Principal Rob Bach said.
"He's being tapped to do some leadership with how to build the center for the ninth grade and what that is going to look like," counselor Kate Nelson explained.
According to the staff of Stillwater Area High School, leadership is a definite strength of Kraft. Even from the very beginning of the year he has taken the position of a leader on multiple accounts. Despite being entirely new to the district Kraft was the one to welcome and inform the incoming sophomores.
"One of his first official duties was tenth grade orientation this year. We ran a different orientation model for our students this year and tried to make it more Stillwater community focused," Bach said, "Mr. Kraft picked up the ball immediately and ran with it and executed exactly what we had talked about how we wanted that day to look."
A uniquely community centered approach to his work makes Kraft a refreshing personality. Whether it be giving a speech, greeting fans at Pony games or simply chatting with students, he makes people feel welcome and appreciated.
"He gave the most inspirational talk at the awards ceremony," Nelson said, "He acknowledged their talents and abilities and it was very well done."
"One of the things that he brings is certainly enthusiasm. He also brings a very student-centered approach," Bach added.
"I just want to provide servant leadership to the students and staff here at Stillwater," Kraft said. "How can I help someone grow and how can I add value to someone else in their journey to reach their goals.
About the Writer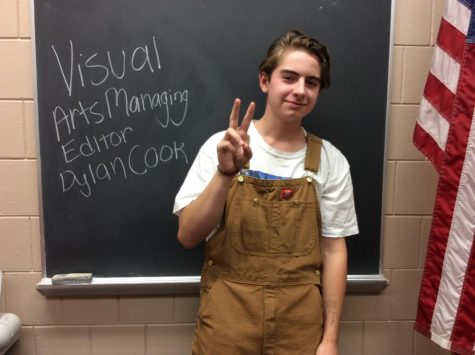 Dylan Cook, Visual Arts Managing Editor
Dylan Cook is a creative, outgoing, and outstanding sixteen year old student at Stillwater Area High School. Dylan enjoys photography, music, and snowboarding....