Steil finalist for Minnesota Teacher of the Year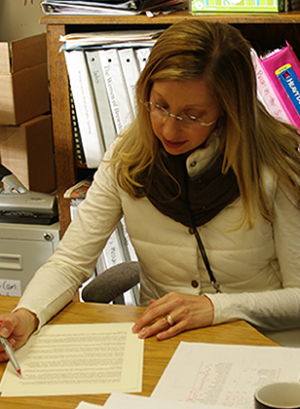 With medium length blonde hair, a petite frame and a fashion forward wardrobe, Language Arts teacher Rachel Steil stands in front of the classroom wearing a welcoming, but firm stance. Steil, always being clear with the expectations she has for her students, goes over the schedule in place for the following week before starting the lesson. Steil has a unique class schedule, juggling English 10 Enriched, as well as two English newspaper classes which are further separated down into two sections, A and B.
"Since the first year that I had Steil as a teacher, I've become much more organized in other areas of my life. Steil herself is very organized. She has good systems for her classes in place," said senior Hannah Crawford.
Steil was recently nominated for Minnesota Teacher of the Year by senior Emily Ness and her mother Naomi, and those who have been lucky enough to be assigned to her class are not surprised by her nomination.
Ness said that the reason for her nomination was simple, "I have had Mrs. Steil for the past three years. She has been a wonderful teacher. She has inspired me to expand my writing ability in both English and newspaper. She has also taken an interest in my personal life. Mrs. Steil truly deserved the nomination. I hope she wins."
Crawford, sharing Ness's opinion on Steil said, "[Steil] has been a friend and a teacher to me since sophomore year, when I was in her Enriched English class, and I've never respected a teacher more."
The Minnesota Teacher of the Year award is a prestigious recognition program that has been given out to excellent educators for 50 years.
Winning the award has the potential to change the teacher's routine during the year in which he or she receives it.
Steil said, "In the short-term for who ever wins, there are definitely some time commitments away from the classroom, whether that's going to Washington D.C. to meet the president, or meeting with people locally to discuss education. Overall, the nomination has given me the opportunity for reflection on what I do, how I do it and why I do it."
Language Arts teacher Traci Swenson said that some of Steil's strong suits are that she is "extraordinarily knowledgeable, which leads to her exceptional work. She empowers students to take ownership in their leadership roles in newspaper, and relates well to students. She has high expectations, yet is also very approachable."
On May 3 at the Bloomington Radisson Blu hotel, a 25 person panel of judges will decide who, out of the 10 finalists, will be awarded Minnesota's Teacher of the Year 2015.
"Friday the finalists will all arrive at the hotel to get to know each other, Saturday is filled with interviews and a workshop on media coverage, and Sunday we find out who is awarded Teacher of the Year," said Steil.
"
Friday the finalists will all arrive at the hotel to get to know each other, Saturday is filled with interviews and a workshop on media coverage, and Sunday we find out who is awarded Teacher of the Year."
— Rachel Steil
Steil has been highly supported throughout her nomination journey by students, colleagues and loved ones alike.
Sophomore Kate Wallace said that she has benefited from Steil's Enriched English class because of "the way she interacts with her students. She makes learning enjoyable and understandable. She really prepares us for AP next year, and everything she teaches us benefits the students in some way, shape or form. It wasn't until this semester that I transferred into her class, but ever since I have, I am feeling very prepared and excited for next year. She is a wonderful teacher and I'm so grateful that I got the opportunity to experience her fun teaching style."
Wallace is not the only one that has benefited from her way of teaching, Junior Joe Rice said, "She makes her students be hands on, and pushes them to be self sufficient without spoon feeding them answers."
The award would mean a lot for not only Steil, but also the Stillwater district. Giving recognition to the excellent programs that Stillwater schools present to its students.
"I'm really proud of her, and I hope she wins. She deserves it," said Swenson.
About the Writer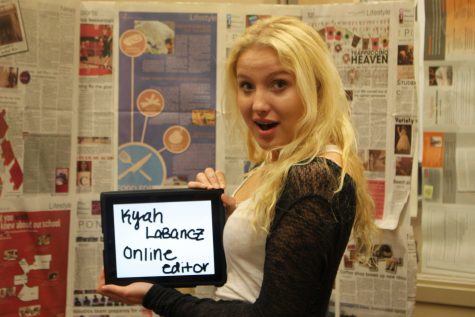 Kyah LaBancz, A&E Online Editor
Kyah LaBancz is graduating with the class of 2015 and is so excited to be a senior. At school she is involved with KEY club – a club dedicated to volunteering...