Survival guide to sophomore year
Hang on for a minute...we're trying to find some more stories you might like.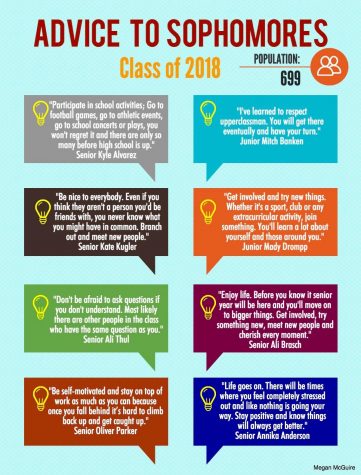 Walking through busy halls buzzing with people, finding new classes, seeing and meeting new people each day. Getting new teachers, meeting new friends at a new school with a new atmosphere. The 2018 sophomore class consists of 699 students getting to know their way around the high school while learning the ropes of how the school functions.
Being the youngest in a school of over 2,000 people can be intimidating and frightening at first, trying to fit in and find your way. Upperclassman made it through their sophomore year and know that the high school is nothing to be feared. Juniors and seniors have learned insightful tips and lessons that can help sophomores through their remaining high school years.
"Cherish sophomore year while you can, because junior and senior year will hit you like a truck. The senior slide is not a thing and the enormous work load you experience junior year will only increase," senior Kyle Alvarez said. "Enjoy the days you have off from homework because they will not happen very often. Do your best to stay on task and stay current on assignments, because once you fall behind it becomes increasingly difficult to catch up."
Sophomore year can be stressful learning to adjust to a new work load, new schedule and all the new faces that appear each day. Most students adapt rather quickly, getting used to the way things work, getting a better understanding of their schedule and using their time wisely.
"
Yes it will be stressful and you'll feel overwhelmed, but it's only high school, enjoy yourself."
— Kyle Alvarez
Sophomore Cole Fernandez said, "The hardest part was finding my way around school the first few weeks. I also don't see my friends as much anymore during school and the homework load took some time to get used to. But I already like the high school far more that the junior high, it's been fun."
The upperclassman can be seen as intimidating due to the fact some believe they have certain rights and privileges over the underclassman.
"I've learned to respect upperclassman. You will get there eventually and have your turn," junior Mitch Banken said.
Fernandez said, "The upperclassman are actually nice people. You stay out of their way and they will stay out of yours."
Staying out of the way of upperclassman is not the only answer. Friendships can be made with anyone and does not have to be faced on the fear of someone being older.
"Be nice to everybody. Even if you think they aren't a person you'd be friends with, you never know what you might have in common. Branch out and meet new people, that person may become your best friend," said senior Kate Kugler.
Currently the high school consists of sophomores through seniors. However, in the upcoming years freshman will also be attending the high school. The first freshman class will have only had one year of feeling comfortable at their junior high before having to get used to yet another school. This advice can be reiterated to the new freshman as they make their way through high school.
"Most of all you need to remember to stay relaxed and calm. Yes it will be stressful and you'll feel overwhelmed, but it's only high school, enjoy yourself. Participate in school activities. Go to football games, go to athletic events, go to school concerts or plays. You won't regret it and there are only so many before your time at high school is up," Alvarez said.
About the Writer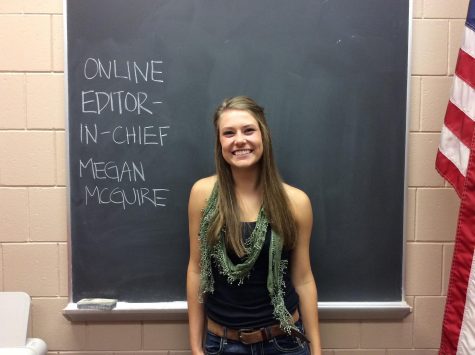 Megan McGuire, Online Editor-in-Chief
Megan McGuire is a 2016 graduate at Stillwater Area High School. She plays lacrosse and loves watching hockey. Enjoys fishing and anything dealing with...