Paving the future for upcoming lawyers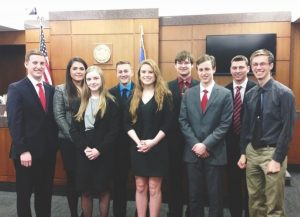 The six-month mock trial season wrapped up on March 6. Stillwater placed second overall at the Minnesota state competition.
This is the second year that Stillwater has had a team. Seniors Nick Sabin, Rachel Hartwig and Mitchell Sell started the team after they had a mock trial class their sophomore year with social studies teacher Michael Kaul.
The season started off in October, when the team got their first look at the case that they spent the whole season preparing. This season's case was a murder. The team had to study the facts and prepare a prosecution and a defense for competition.
"It's basically a fake trial where you have three lawyers and three witnesses for each side," said junior Natalie Sims. "You're scored by real lawyers on how well you present your side of the case."
The team has grown substantially since it was born two years ago. Stillwater placed seventh last year, and this year they placed second in state.
"Last year, we were learning what mock trial was, and we were learning how to work as a team," said senior Holly Fena. "We went in with more of that knowledge this year and did significantly better. We definitely moved to a level of perfecting our skills that we simply couldn't have reached last year."
"
We went in with more of that knowledge this year and did significantly better. We definitely moved to a level of perfecting our skills that we simply couldn't have reached last year."
— Holly Fena
The students involved in mock trial are extremely intelligent and dedicated. The season is longer than a typical sports season, and the research and studying adds to the normal homework load.
"It's a lot of work," said Fena. "I'm not going to say it was easy, or that I always found a way to do everything I wanted, because if I did it wouldn't be true. It is a lot of work, but it is also one of the most rewarding activities I've done."
Mock trial provides a realistic environment for those with an interest in law. Students learn a variety of skills that are essential for real court cases.
"Confidence is key for mock trial," said Sims. "If you are strong and confident in what you are saying, people will believe anything in the courtroom."
It is not just skills in the courtroom. The experiences they go through help the members in school, college applications and other situations.
"Mock helps a lot with argumentative skills and trying to persuade," said Sims. "Your vocabulary becomes more complex, and that helps with every aspect of my life."
Since it is such a challenging and rewarding activity, the participants have exciting futures ahead of them.
"Hopefully I'll be a judge at some point, that's my goal in my career," said Sabin. "I'm going to Iowa State for my undergraduate, and then I'll go to the University of Minnesota for law school. Then I'll be a trial attorney for a while and hopefully become a judge."
The team is proud of how they placed at state. If they would have won, they would have gone to nationals in North Carolina, but many were happy with second.
"It was bittersweet," said Sabin. "If we would have won state, we would have gotten a whole new case to prepare in a month, and then we would have given the case at nationals. Most of us were ready to be done, it's a long season. We were sad to have lost but happy to be done."
Next year, the leadership is turned to from the co-founders of the team to this years' juniors, who have the responsibility of continuing the team's short legacy.
"Next year, I definitely have to step it up as a leader, as well as everyone who's a returning member," said Sims. "I want to leave the team knowing that when I'm gone, it will keep going. I'm already trying to recruit people."
As the team grows, it will continue to see year to year improvement. Stillwater will be more enriched with this opportunity for kids considering a future in the courtroom.
About the Contributor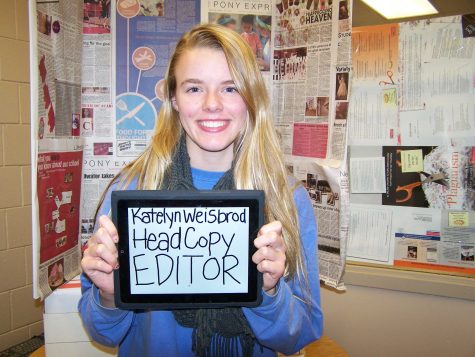 Katelyn Weisbrod, Head Copy Editor
Katelyn Weisbrod is the head copy editor for the Pony Express Newspaper. She plays the cello in the Stillwater Concert Orchestra and is involved in National...