Laura Ilkka, Photographer

December 23, 2015
Christmas, a time of the year where love and cheer is being spread, although one student is spreading that more than usual. Kallie Quist, a Christmas loving senior, has been celebrating "Quistmas" for a few years. This year though, sharing and publicizing it more than ever. Quist has made a twitter ac...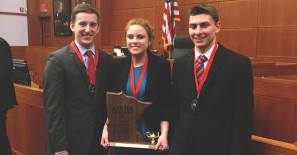 Katelyn Weisbrod, Head Copy Editor

April 8, 2015
The six-month mock trial season wrapped up on March 6. Stillwater placed second overall at the Minnesota state competition. This is the second year that Stillwater has had a team. Seniors Nick Sabin, Rachel Hartwig and Mitchell Sell started the team after they had a mock trial class their sophomo...