National Honor Society hosts spring coffeehouse
The National Honor Society hosts a biannual coffehouse show, which allows students to perform their talents in front of a crowd for everyone to enjoy. The revenue collected from ticket sales gets donated to a chosen charity picked by NHS officers.  However, this year was special because science teacher Andy Weaver chose this year's charity cause. The spring coffeehouse was successful and a beautiful display of the community's talent.
Coffeehouse has been around for many years. The idea formed when a former NHS advisor, who was a French teacher, proposed the idea of a French-themed coffee house, which is when people gather to listen to or watch members of their community perform in a small, personal setting.
"It used to be a very intimate, small event held in the Black Box, which is right behind the stage. It got so big we couldn't hold it there anymore. Now we hold the event in the auditorium," Becky Mazzara, ASL teacher and NHS advisor, said.
Senior officer Katelyn Stack approached Weaver to provide him with the opportunity to pick a cause to donate the proceeds since he will be retiring this year. Weaver suggested the money to go the Zach Sobiech foundation, fighting the illness of Osteosarcoma. This year honors the tenth year of Zach's passing and Weaver wanted to commemorate his life and his story since he had a personal connection to Zach. When asked which organization to choose Zach came to Weaver's mind first.
Weaver explained the impact Zach left and how he wanted to honor his name and spirt.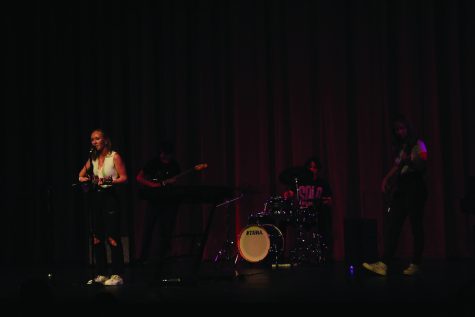 NHS officers are required to pick an event to organize each year and this is theirs. The students of NHS and their senior officers, Katie Irwin and Katelyn Stack work hard to decorate and organize the show. Winter coffeehouse earned $1000 for the Never Surrender foundation and this show earned $1500 for the Zach Sobiech foundation.
Irwin described the planning and hosting as "it is really fun to do. I feel like I love planning everything out, it's really stressful but worth it."
The performances throughout the night were admirable, many students took the stage showing off their musical talents. Every year, Weaver preforms a song at coffeehouse and it has became a memorable tradition. This year he gave us his last performance singing 'She Talks to Angles," by The Black Crowes. Mazzara said she hopes Weaver will come watch future performances or even continue to perform to carry through with his tradition.
Coffeehouse provides a sense of community, as families and students come to watch the shows. This event provides an outlet for students to share their talents or passions with an audience and express themselves while supporting a good cause.
"It's all super inclusive. I mean everyone benefits from music and comedy. As for the outside community, I think the word gets out that we are pretty cool. It shows we aren't all about getting our test scores in and having the smartest kids but we also have talent and community," Mazzara said.
Spring coffeehouse was successful and sentimental, with Weaver retiring, the 10-year mark of the loss of Zach Sobiech and the senior officers Stack and Irwin hosting their last show before walking the graduation stage. The night was full of beautiful music and dancing acts and a favorable turnout which helped the fundraiser obtain $1500 of donations for the cause.
"It's all super inclusive. I mean everyone benefits from music and comedy. As for the outside community, I think the word gets out that we are pretty cool. It shows we aren't all about getting our test scores in and having the smartest kids but we also have talent and community," Becky Mazzara