NHS members plan fall blood drive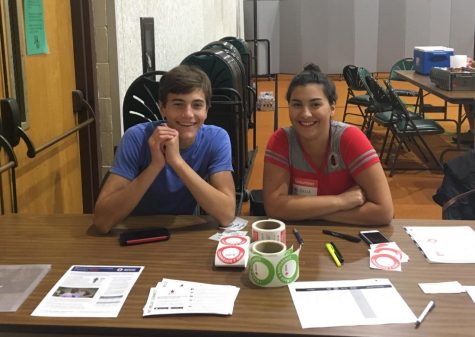 One pint of blood can save up to a potential of three people.  That is why giving blood at blood drives are a great way to help strangers and local community members save lives.
The Stillwater National Honor Society Blood Drive will occur on Oct. 5 and is a great opportunity to do something for others.  For the most part, students that are 16 and over, have no iron deficiencies and have been feeling well are able to donate blood with the Red Cross.  Students who meet those requirements can donate and help others in need.
Hospitals need the blood that is donated by students.  The blood students donate will boost the blood surplus, and make an impact on others.
SNHS President senior Molly Puhrmann explained, "With all the current hurricanes going on, blood is always a really, really, big demand."
A barrier some students face when deciding whether to donate or not is fear of blood.  The Red Cross is a major organization and helps people set up blood drives at many different locations.  Giving blood with the school through Red Cross is safe and easy.
When talking about donating blood, SNHS Advisor, Becky Mazarra explained "They're not going to know until they try."  She also added, "You have to at least try and just think of all the lives you're saving."
"
It's a really good outcome and you feel really good after you donate."
— Molly Puhrmann
The school has volunteers who will talk to students to comfort them.  There is also food and drinks that are provided at the end of the blood drawing session.
Junior Grant Auleciems said, "You don't really see any blood when you're getting your blood taken out."
Some athletes cannot donate during their sport, but they can donate in the offseason.  SNHS are providing many different opportunities to donate during the year, students just have to pay attention to flyers and posters.
Puhrmann also explained that she is a swimmer and cannot donate during the season, but in the winter she will definitely donate blood.
SNHS also receives incentives for organizing the blood drives.  Besides helping others in need, the blood drives also benefits SNHS with grants and scholarships.
"If we are signed up for all of our blood drives by Sept. 1, then NHS gets a gift card," Mazarra said.
"It's a really good outcome and you feel really good after you donate," Puhrmann added.
Blood cannot be created in a lab, and the Red Cross always needs donations.