Ponies baseball goes back to first base
Stepping back onto the field after a practically picture-perfect 2022 season, the varsity baseball team entered this season with a winners mentality.
Recapping last season, the Ponies ended their regular season with a 16-4 win-lose record, averaging about nine runs per game. The Ponies played Farmington in the State Championship game at Target Field on June 17, 2022. With a final score of 8-1, the boys were able to take home their second State title in 4 years.
Every athlete dreams of being able to play, let alone win, a State championship. The exhilarating experience of playing the most important game of an athlete's high school career is incomparable.
"It was pretty shocking. To be honest, it didn't really feel real at first," senior Mason McCurdy said. "The expectations going into that year weren't that we were going to go that far."
As the team enters this season, they feel a lot of pressure. Being the current State champions, all eyes are on them this season. Not only by the other teams, but also by scouts. The Ponies baseball program's success over the past four years has put a target on their backs. People expect a lot out of these boys and the pressure to deliver good results has exponentially grown since 2018.
Senior Alex Matchy predicts that every team will be, "going for our neck," this season. The team does not lack confidence in themselves to be able to go far this season but rather understands that this season will not be easy.
Prep Baseball Report (PBR) Minnesota, posted on March 28, 2023, the preseason Minnesota team rankings. The Ponies are ranked second in State, right behind the Raptors from East Ridge High School. With that season-opening information, the Ponies are now viewed as one of the two teams to beat.
"
"I've seen them evolve from just guys who want to get better at baseball, to guys who want to make their whole team better so they can have a championship season.""
— Micheal Parker
Head Coach Micheal Parker has been blessed to watch these boys grow from eighth-grade fans watching the ponies win their state title back in 2018 to the players they have become today.
He says that getting to whiteness their future team win a State championship was probably their biggest motivator to get back to that same level.
"I've seen them evolve from just guys who want to get better at baseball, to guys who want to make their whole team better so they can have a championship season," Parker said.
The mentality for this season is resilience. The mind game of falling off of cloud nine and being back at the starting line is the biggest hurdle an athlete can face, but also some of the best motivation to push their way back up.
Most of the team were seniors last year, leaving five players who will be coming back, one of which was freshman Luke Adams. They are starting off this 2023 season with practically a new team, new dynamic and new chemistry. They understand that they can not just "recreate," the bond they built last year. They need to work on creating a new bond that is just as strong, or even stronger than the last.
With the start of this season, the team is on a never-ending cycle of proving every day that they still are the Minnesota State champions. On and off the field, mentally and physically. The ponies are back to first base and although the journey is long and won't be easy, they are ready to run it home … again.
Leave a Comment
About the Contributor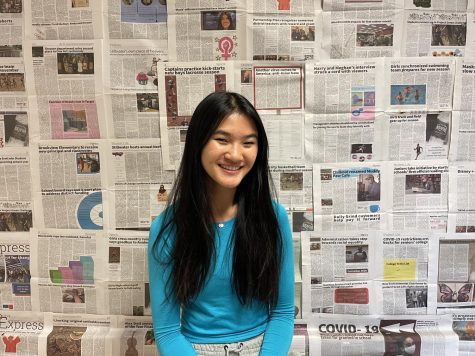 Maya Disher, Photographer and Public Relations
I am Maya Disher, a Senior at Stillwater Area High School. I am the photography editor-in-chief and a copy editor. I am also the photographer for the varsity...