Grace Weitzel wins an award at GTCYS
Senior violinist Grace Weitzel recently won the concerto competition at GTCYS – Greater Twin Cities Youth Symphonies while playing a solo. This concerto competition award is extremely tough to win, especially at the young age of 18. However, this is nothing new for Weitzel, as they have been winning various awards for years.
For the last 10 years, Weitzel has climbed their way up the ladder that is GTCYS. From joining as soon as they could at the minimum age limit of eight years old to winning top-rank awards. Weitzel has grown up in GTCYS in aspects of age and music skills.
"They actually have seven orchestras, and I've been in six of them," Weitzel explained. "I actually started out in second chair violin in the bottom orchestra, and now I'm concertmaster of like the top orchestra, which is really cool for me."
Weitzel made the decision to play violin and join orchestra in early elementary school. Of course, they did not know it at the time, but their life changed all thanks to a kindergarten field trip.
"In kindergarten, we had a field trip to the Minnesota Orchestra Hall," Weitzel remembered. "I think they let us try or touch the instruments, and I was thinking I was good at violin, so I went home and asked my mom if I could play, and she got me lessons."
"
She is less than 1/10 of one percent of all violinists in the entire Midwest.  The level she's gotten to is really really cool to see, but it's something that few people can actually achieve.
— Mr. Jensen
Due to the insane amount of talent and hard-worked skill that Weitzel has built over the last 10 years, a natural sense of leadership follows. It is both musical maturity and pure dedication to the art of playing the violin.
Orchestra teacher Ryan Jensen described that at times, Weitzel is almost like a partner of his, leading and helping the orchestra class through a piece of music.
While Weitzel would argue that it is more important to put in the practice, it is undeniable that they also possess so much raw talent that it can be hard to even categorize them into a group. The difference between talent and skill is important to know, especially for people who do not feel like they are getting anywhere with their music, or new instrument players who may start comparing themselves to people like Weitzel.
Mr. Jensen explained, "She is less than 1/10 of one percent of all violinists in the entire Midwest.  The level she's gotten to is really really cool to see, but it's something that few people can actually achieve."
High school music students have a tough decision to make, especially in the last two years. After playing the violin for over half of their life, Weitzel now has to decide if their violin will continue on with them, or stay as a part of their school years. They suddenly have to know the answer to the question "are you a student or a musician?"
"A year ago, I would definitely have said I'm a high schooler. But I just got done with my last audition literally last night, so that's kind of made me feel more like I'm a musician," Weitzel clarified. "But being well rounded is an important thing for me, because I didn't know I wanted to pursue music professionally until like junior year, so I definitely feel like I got that high school experience."
It is rather well known that music can capture a person's soul; emotions start to flow along with the melody. This is why for centuries, musicians have been watched and listened to with amazement. In recent years, it has even been proven that people need music, as it has such a positive effect on brain chemistry. But throughout all of the time, music has involved the instrument, the performer, and the audience. In this case, it is the violin, Grace Weitzel, and anyone who is lucky enough to catch a listen. However, everyone who gets to take in Weitzel playing the violin will feel as if the music will forever be in their ears.
Leave a Comment
About the Contributor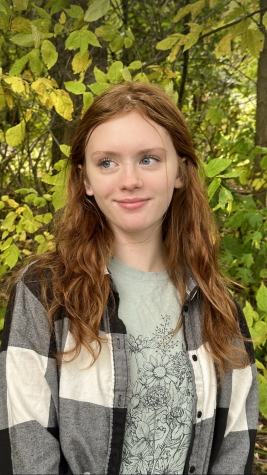 Coral Lariviere, Broadcast Editor
Hi, my name is Coral Lariviere. This year I am a junior and a field reporter. I have many interests and hobbies, some of which are a type of horse riding...