Junior Grace Weitzel places fifth in the annual YPSCA competition
With the accompanist sitting behind her, sophomore Grace Weitzel gives a small nod and closes her eyes during the piano introduction of the violin concerto. Then, not just her eyes, but the sound too in the St. Paul Conservatory opened up and filled inch of the space; now her bow was drifting across her A string. For the next five and a half minutes, Weitzel played the first movement of Sir William Walton's Violin Concerto; playing up in the stratosphere of the violin and used the sautille stroke, all the while a cool and collected performer commanded the attention of the virtual audience.
Weitzel won fifth place in the Minnesota Orchestra's annual Young Person Symphony Concert Association (YPSCA) Concerto Competition, winning the Marget Ankeny Award. She played the first movement of Sir William Walton's Violin Concerto.
"It's probably my favorite, if not, one of my favorite pieces I've ever played," Weitzel said. "Because it's a little kind of romantic combined with contemporary style. It's a kind of niche [piece], people don't play it very often."
This is the second year Weitzel has competed with the group, but the first time she placed in the final round. She ultimately settled on the Walton because of its wide variety of emotions.
Distance learning but in-person music
Already an accomplished violinist, having won one of two spots in the Intermediate Age Division the Mary West Solo Competition in 2019, winning an award with Thursday Musical both in 2020 and in 2021, the Greater Twin Cities Youth Symphonies (GTCYS) Solo competition in 2021, and making a radio debut on Minnesota Varsity in Dec. of 2019, winning the YPSCA competition was the icing on top of the cake.
While Weitzel is still a distance learner, she is still able to make music with friends and groups in person. She still rehearses with her quartet, is finally back with in-person lessons, and performing with GTCYS. Even still, the YPSCA competition was held completely online this year.
"It was really weird," Weitzel said of competing online with a pre-recorded submission. "When you're recording, instead of playing in front of a live audience, it's almost more pressure, in a way. Because you know that you're going to listen back at it and critique yourself, and you know that other people are going to watch it. And it's going to be permanent, it's going to be there forever, it's not just one thing."
Weitzel chose the Walton because she loved the expansive emotional appeal, from dark and angry to foggy and dreamy to fiery, and all within five minutes. While playing, Weitzel produces an incredibly intense and riveting sound but shockingly enough, she tries not to think too intensely about the work she is playing.
"I try my best not to think about anything," Weitzel said. "If I start thinking too much, it really gets in the way and I can start getting distracted. I like to just really focus, I just listen really hard, like I'm just really focused on hearing it. I just like making sure that I adjust to it sure that it sounds like I want every second."
"
I decided I would much rather have someone who's just got wild hair coming out of their tuchus and just going at it, missing stuff left and right, than having someone who is perfect and is just boring."
— William Eddins
Because of the fluidity of recording, Weitzel ended up completing "four or five" different takes, she said. Ultimately, she ended up going with the first one.
YPSCA competition and awards
Rather than the usual ceremony at Orchestra Hall where the organizers of the competition would announce the winner, this year they opted to do a Zoom call to reveal the names of the winners. Her entire family was in attendance, just like a normal year would have meant, and she was quite simply "really excited" when she found out she won.
The past president of the YSCPA and current member of its board said any student who won an award was a standout amongst a group of talented young musicians. "The students who were standouts in this particular competition, really displayed some talents and some dedication," Krueger said.
Krueger later mentioned this became a nationwide competition, making it even more of an honor to be selected. Some students were emboldened by the virtual format and sent in videos from Chicago, and elsewhere.
William Eddins was a judge in the final round and could not speak specifically to Weitzel or other members, but was able to share what the judges were looking for in the competition. While he mentioned intonation and tone were factors they were looking for, telling a story and being emotional with the piece was just as important.
"There's nothing that will drive a person crazier than someone who does everything perfectly, and it's just boring," Eddins said. "I decided I would much rather have someone who's just got wild hair coming out of their tuchus and just going at it, missing stuff left and right, than having someone who is perfect and is just boring."
He did not say it directly, but implied all finalists fell into this category of representing something more than his "perfection."
While all three agreed the competition itself was not going to be a springboard for other professional avenues to follow, they all disagreed about what it meant for students.
Eddins, who is an internationally renowned conductor, said that this competition simply is not important to get students ready for a career, because competing is not a career. Krueger took a different approach saying it helps at getting young people involved into the local symphony orchestras.
Weitzel took yet another, and more personal approach. She said she wanted to perform again, after a 16 month hiatus because of the pandemic. "Basically, this year I didn't have all that much to perform," she said. "I just thought it would be good to have something to work towards this year. And I really enjoyed the piece I played."
As the interview was winding down, Weitzel was thinking of what else to add, unsure of what to say. Then, just as the reporter was about to call it a day, she said, "Oh, I got a new violin." Then she talked about how right before this competition she started looking for a new violin because the one she had "was really not cutting it anymore."
"I felt like it kind of gave me a new perspective on the piece," Weitzel said. "It sounded different on each of the violins, which kept it fresh."
Leave a Comment
About the Contributor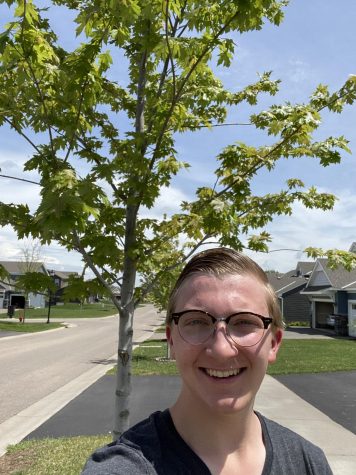 Alex Steil, Online Editor-in-Chief
My name is Alex Steil and I'm a senior online editor-in-chief this year. I'm principal cellist of the Con Amici Chamber Orchestra, associate principal...