Freshmen inducted to student council
Freshmen anxiously awaited results of their Student Council election Oct. 19, 2020. Results were posted to Instagram to announce the six freshmen who were inducted by popular vote of their peers.
Each fall, all freshmen are invited to run for student council. There is no limit to how many freshmen can run, but only the six with the most votes will be inducted. Sophomore, junior, and senior representatives are voted upon in the Spring for the next year, enabling them to begin planning during the summer.
Student Council Advisor Dusty Dennis said this was the most freshmen than ever before that ran, and he was tempted to add eight representatives instead of six, but for now they kept it the same.
However, there are more requirements to running for student council than putting up a poster. Each freshman elect is required to attend an informational meeting, fill out an application, and has two weeks to campaign. The six freshmen voted to be inducted this year were Anderson Wagner, Ann McGlynn, Connor McGlynn, Maysen Puhrmann, Naomi Herr, and Tyson Fredkove.
Freshman Maysen Puhrmann explained that she handed out candy and put up posters, but "the hardest part is putting yourself out there."
Each week, Student Council meets on Tuesdays at 7:10 a.m. in the main forum room. The presidents have an agenda of things to get feedback on as well as assign tasks, and further ideas are generated.
"The meeting was really really cool. Just to see everyone blurting out, sharing ideas and feedback was fun," Puhrmann said.
Although six new freshmen were inducted, many of the pre-existing members feel relatively new to the council. Because of COVID-19, only 7 of 40 members have participated in planning events during a normal year, which can prove challenging. Due to a lack of interest and publicity because of the hybrid school format during the 2020-2021 school year, everyone who submitted an application was inducted into Student Council.
"
The meeting was really really cool. Just to see everyone blurting out, sharing ideas and feedback was fun."
— Maysen Puhrmann
"Our dynamic is on both ends. There's a lot of passion and ideas but not quite an understanding on how to execute because of how many members there are who don't have this previous experience," Dennis said.
In particular, Student Council has not been able to put on their traditional dances, get togethers, and BLAST week events in 2 years. The only event able to be put on last year during COVID-19 was Senior Sunrise. Because these events weren't put on last year, there's increased attendance and excitement, and increasing pressure for Student Council to put on enjoyable events for the student body.
"BLAST week [Be Loving and Sharing Together] will be the biggest challenge for sure. It's a big thing and we haven't done it in two years, I want it to be special," junior Student Council Representative Hannah Heintz said, when asked about what will be challenging this year.
Traditionally, Student Council puts on the events for BLAST week, Homecoming Dance, Pep Fest, Snoball and Battle of the Bands. In addition to these events, there is an underlying theme of bringing positive change to the school and uniting the student body that is a constant goal of student council.
"In the future, I would love to see the council be a force in the school and impacting student body in addition to what they traditionally do, like planning the dances and school events," Dennis explained.
The Student Council will be planning events coming up such as holiday serenades this December, BLAST Week, Battle of the Bands, and Snoball in February.
Leave a Comment
About the Writer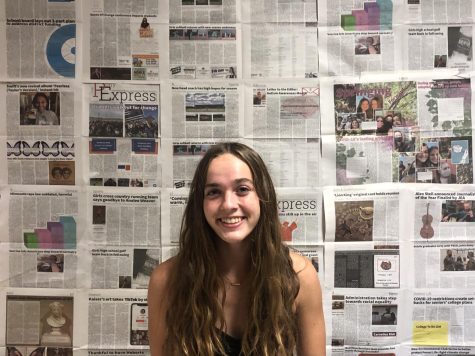 Brooke Elfert, Business Editor and Copy Editor
I am Brooke Elfert, junior and I am a Business Editor and Copy Editor. I participate in cross country, track, alpine, student council and national honors...