Juniors Claire Abbott and Addie Foote win second place in international Project Green Challenge
Juniors Claire Abbott and Addie Foote won second place in the international Project Green Challenge. The two competed against 4,572 other students in all 50 states and 82 countries. Their project aimed around energy conservation and sustainability, specifically at the high school, but also the district at large.
Together, Abbott and Foote worked against the rest of the competitors in a 30 day sustainability challenge. The preliminary challenge was to expose to the students how much energy they use on a daily basis and how to conserve energy.
"We wanted to advocate for solar at our school as well as promote energy efficiency," Foote said as the reasoning for joining the challenge.
After gaining eligibility and applying to be finalists, Abbott and Foote started a six-month climate action project. They decided to focus specifically how to achieve and get solar energy at the high school, as a way to get resources on the upcoming levy.
"Our biggest project is definitely solar. That's probably our most ambitious," Abbott said. "I know they're still taking proposals, but if we could get some sort of action or approval on that before we graduate, that would be great."
"
If we could get some sort of action or approval on that before we graduate, that would be great."
— Claire Abbott
Abbott and Foote initially bonded over their passion for environmental conservation when they founded the Environmental Club.
"My friend, [Claire], wanted to make an environmental club," Foote said. "I was like, 'Yeah, I'll join. Yeah, I'll found it with you.' And then we joined Project Green Challenge where just learned a ton of stuff. That's really where it all started."
Even though the Project Green Challenge is over, they and their club still have a long list of goals they want to achieve before Abbott and Foote graduate.
Abbott said they are navigating with the district's bureaucracy to create a pollinator garden at Lake Elmo Elementary, put solar panels on the high school, place a solar tree in a local garden, create a community garden for students, give students drone experience in conjunction with Century College for college credit. Not to mention, this is all done in addition to regular activities their club sponsors, such as plastic bag drives, local clean-up, and regular community out-reach.
Look for a full-length feature story, which will be published on May 24 by reporter Kady Peltier.
About the Contributor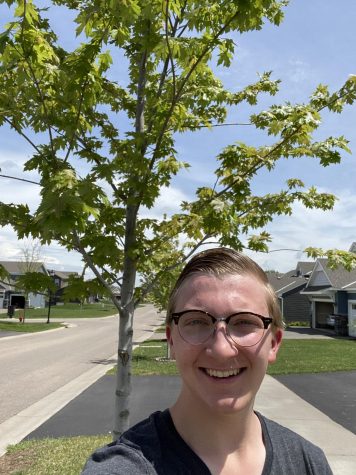 Alex Steil, Online Editor-in-Chief
My name is Alex Steil and I'm a senior online editor-in-chief this year. I'm principal cellist of the Con Amici Chamber Orchestra, associate principal...