Graduation plans still up in the air
For seniors, this marks the end of their high school experience and a transition into something new.  Traditionally, the graduation ceremony is the event that celebrates this transition, but restrictions on in-person events may mean uncertainty for the ceremony.
Normally the graduation ceremony is held indoors at Roy Wilkins Auditorium, but due to complications with COVID-19, last year's graduation plans were altered.  Principal Robert Bach sent an invitation out to seniors to help plan the event with the new restrictions. This group is called the Senior Committee.
"Last year, I ended up sending out an invite to all the seniors because we had so many different options to discuss, we really didn't know quite what graduation was going to look like," Bach said.
Last year's graduation ended up taking place online. Though there were some people who were upset by this news, Bach said the majority of feedback was positive.
"I think that people understood that was part of what we had to do last year. Also, last year in addition to the online piece, we also offered a virtual piece where we met with small groups of students and kind of gave them a very personalized ceremony. I think the students and families that chose to participate in that felt very good about that," Bach added.
Although the Senior Committee has not met this year to make official plans, some advisors have an idea of what graduation will look like this year.
"
It's kind of a rite of passage as a parent to see your kid walk down the aisle so that you can have closure on their childhood and open the door on adulthood."
— Dusty Denis
"I haven't heard the official decision on it yet, but last I heard they were talking about doing something outdoors, possibly in the stadium, and it would be on the fourth or fifth of June, and they're also going to do the senior parade again, like they did last year," Dusty Dennis, special education teacher and Student Council adviser said.
All of this information definitely points to the graduation happening in person this year. However, it will not look the same as it has in previous in-person graduations. This year, there may be a limit on attendees, and COVID-19 could potentially interfere with the event.
"I don't think they're going to do the huge invite. Before you could get six tickets for family and friends, I don't think they'll have quite that many. I think they'll limit guests. And the issue is again for events, or anything going on in school, is if somebody gets COVID or spreads it, you could have seniors that will not be able to go to the graduation ceremony because they would be on quarantine, so that's an issue," Dennis explained.
An online ceremony is still a possibility because COVID-19 restrictions could change. However, the school knows that graduation is an important event for seniors and their families to experience.
"The kids want to have that experience that every kid goes through. For probably over a century, kids get to go to a graduation ceremony and get that closure on their high school experience. I also think that the community wants it; the parents want that closure. It's kind of a rite of passage as a parent to see your kid walk down the aisle so that you can have closure on their childhood and open the door on adulthood," Dennis said.
Nothing is official yet so a lot of this info is subject to change.
"We have to talk through what parameters are going to be in place. The governor made an announcement today, so this is kind of hot off the press. The governor's announcement talked about capacities at various venues. Once we know exactly what the restrictions are we'll look at what makes sense for us to be able to do and then we'll talk about that with kids to see whether or not that works with some of the other options," Bach explained.
Even though most of the details of the event are still undecided, the school's staff prioritize making this important ceremony a special one.
About the Writer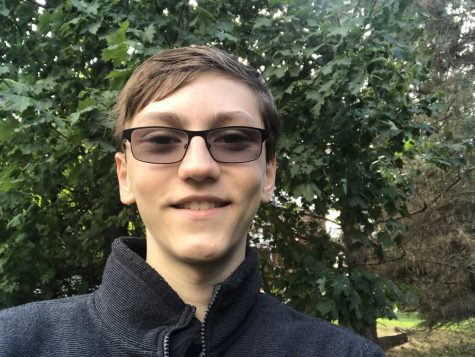 Harrison Walz, Business Editor
My name is Harrison Walz and I am a Business editor. I love grilled cheese sandwiches, and have been playing keyboard/piano for 10 years. During the winter...