School board approves Lansfeldt's one-year contract
Alex Steil, Online Editor-in-Chief
December 23, 2020
After two weeks of political and volatile reactions from the community, the School Board approved a motion on Dec. 17 to offer a one-year contract to hire Interim Superintendent Malinda Lansfeldt beyond the 2020-21 school year. 
"We need Superintendent Lansfeldt's leadership in the coming year. We need continuity and stability within top administration … I think we need Superintendent Lansfeldt in her chair to accomplish those crucial goals," Director Beverly Petrie said in a prepared statement she read at the start of the meeting.
One of the most contentious parts of the debate was whether or not to hire Lansfeldt for a one-year or three-year contract. Petrie, who was an advocate for the one-year option, was most concerned with process, rather than the candidate.
"I had heard a fair amount of concern in the community and within the district itself, about the fact that we were going to be hiring a permanent superintendent, without the usual process," Petrie, who was part of the negotiation committee along with Board Chair Sarah Stivland, said. 
"You get greater buy-in from the stakeholders, from the teachers, from the staff, from the community, so that's why I felt that bypassing that process was going to just make it more difficult for Superintendent Lansfeldt. And that's why I supported the one-year, because it helps us get through the really important levy, that we have coming up this fall. With that continuity, and I felt that was important, and so that's kind of why I was supporting the one-year, rather than the three-year."
Petrie commented on a future superintendent hiring process, "There will be a process to choose someone, and she should apply, or it could be, you know, that she has proven herself so completely to all the stakeholders that we won't even need to have a process. And at this point in time, we just really don't know what that's going to look like."
"
Kids are at the heart of everything that I do and what the district does."
— Malinda Lansfeldt
The biggest issues facing the district are "the pandemic, with COVID, trying to get students back into school full time, as well as we have our operating levy that's expiring next year that we're going out for a vote next November. Then we need to look at space issues, capacity issues, especially down in the south, and we also have a lot of equity work to do," Lansfeldt said.
When there is a levy up for election, traditionally the superintendent makes the recommendations for what is included in the levy proposal, and then brings it to the school board for discussion.
"The administration takes leadership on this to evaluate what is that we need as a school district in terms of financial support. Then, once she crafts a recommendation, then she will bring it to the school board for discussion and approval," Petrie explained.
She added, "We need to pass a levy this coming fall, or we're going to have an instantaneous $12 million hole in our budget, and there's no way to make the sort of cuts that would be necessary and still have the same sort of education experience for students that we have come to expect from Stillwater schools."
While Lansfeldt has been doing this since 2007, her guiding philosophy has been the same: "Kids are at the heart of everything that I do and what the district does," Lansfeldt said. "I'm just excited for the possible opportunity."
About the Contributor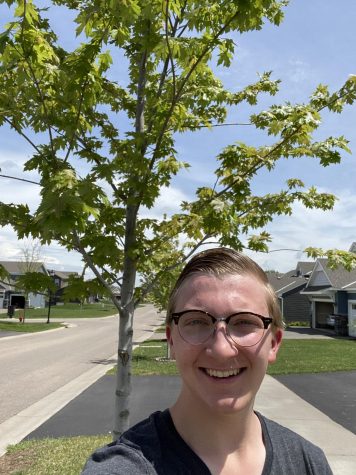 Alex Steil, Online Editor-in-Chief
My name is Alex Steil and I'm a senior online editor-in-chief this year. I'm principal cellist of the Con Amici Chamber Orchestra, associate principal...