Choir still find ways to create music through pandemic
Much time and energy has gone into the planning for this school year, so many aspects are different than what has ever been seen due to the Coronavirus. Choir is one class that has been affected and has had to change quite a bit. From planning, virtual concerts and singing in masks, this year will look a whole lot different.
Although the state and district are not allowing large gatherings, the music department still finds ways to show off their music. The Choirs at Stillwater will be having a virtual concert Nov. 9-10. They will sing together while being recorded by Valley Access Channels. 
"We are going to have a live stream concert on November ninth and November 10th in the high school gymnasium. Monday will be Concert Choir and Bell Chanter, Tuesday will be ninth grade, ninth grade men and varsity men and women, and we will sing the music we've learned this quarter, they will stand six feet apart and Valley Access Channels will come in and record that performance so that it can be live streamed to friends and families at home," choir director Katelyn Larson explained. 
Choir director Angela Mitchell added, "They've been working on the same repertoire of course, and we'll figure out in that space how we can socially distance them and still get a semblance of representation of the things that they've worked on this quarter," while she was talking about their virtual concert.
The choirs have been rehearsing two days a week. When they are rehearsing each student is placed six feet apart and wearing a mask. 
"It's also been a challenge for students to get used to singing six feet apart, and with a mask it changes the way that they hear things they feel a little bit more isolated and again have to be really independent," Larson said.
Junior Maddy Puhrmann said they have been going to after school rehearsals working on songs for their virtual concert. 
"
It's also been a challenge for students to get used to singing six feet apart, and with a mask it changes the way that they hear things they feel a little bit more isolated and again have to be really independent."
— Katelyn Larson
During the summer, teachers did not know what the school year was going to be like. This made it tough for teachers to lesson plan and get ready for the school year.  Teachers did not know if or when students would be in the building and what the situation was going to look like.
"We couldn't do a whole lot of planning until we knew what kind of situation we'd be in of course, so planning wise it felt very different. In fact, we didn't know what kind of balance we would have. …  It wasn't even until a couple of weeks before school that they had decided how they would split kids into cohorts. So it was precarious really," Mitchell explained. 
In addition to mask wearing and staying socially distant, the coronavirus forces class sizes to be significantly smaller. The building is limited to approximately 50 percent capacity. This affects large classes like choir, band and orchestra. 
"It's challenging to have smaller groups of students in choir where you're used to larger numbers and our ensembles would be anywhere from 40 to 75 students singing together. Now we really have a maximum of about 24, so that we can fit in the choir room," Larson said. 
Despite all of the tough changes and difficulties, some students have still found ways to be a part of something that makes them happy. Even with the limited amount of activities provided, students still have ways to be involved. 
"I really love music, I'm super involved with the music programs at the high school because they are so amazing. Everyone is extremely welcoming and friendly and it makes choir so much more enjoyable," Puhrmann explained.
"I loved that I was with a group of people, as a high school choir student I loved being with a group of people that I would normally not spend a lot of time with people of all different backgrounds, all different beliefs, all different interests, coming together and sharing this bond and becoming friends because they love choral music and they're creating something really meaningful together," Larson added.
Choir teacher Angela Mitchell: "The ability of what we do together, the bonds that are formed, the personality of an ensemble. I love that. It's always exciting. I just love creating music with kids." 
About the Writer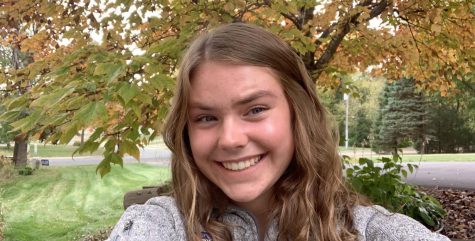 Ella Hamilton, Social Media Editor
I am Ella Hamilton and I am a Social Media Editor. In the fall I play on the tennis team, in the spring I play golf, and I also play the cello. I am the...