Boutwells seniors persevere through pandemic
Throughout the community, people are forced to adapt to a new way of life. While some may be mildly inconvenienced by drive-by pick-ups, distance working or learning and the ever-present challenge of fervently sanitizing everything in sight, others face more dangerous, threatening adversities. Stories of heroism and selfless sacrifice of health-care workers abound. Struggles of small businesses and the unemployed rise in their pressure and gravity. Yet, a menace of a different nature looms over another group entirely, unique to the challenges of the rest. Faced by the threats of COVID-19, the elderly everywhere experience significant pressures and changes to their daily lives.
"It's had a big impact both on my husband and myself," Judy Rubertus, Boutwells Landing resident, explained. "We are both very involved in the Boutwells community…and now our social contact is by either device or occasional distance visiting, and that's a real problem for us because we're very social people. And so that has been a really big impact in our lives and continues to be."
The community of Boutwells Landing in Oak Park Heights consists of various living and care options for seniors, with independent living communities separated into apartments, brownstones and townhomes, the latter of which is home to Judy and her husband. With the high risk COVID-19 poses to the elderly and individuals with serious underlying medical conditions, Boutwells and senior living communities nationwide have been on a tight lockdown, restricting visits and interactions of various groups and activities. Although there have been no confirmed cases of the virus in Boutwells Landing, the policies of social distancing and other preventative measures remain in place in the hopes of keeping it that way. Social distancing for the elderly in these situations poses a significant challenge for individuals who rely on in-person interactions to stay connected and purposeful in their daily lives.
"One day goes into the next because there's no really routine anymore…thank goodness for calendars!" Ginny Rovelstad, Boutwells Landing resident, joked. Then, on a more serious note, "I think the biggest [thing] is not having a routine of something that you have to do, or want to do, every day. I think that's very important in life to have some kind of a goal every day…so I think the lack of a routine is probably the hardest, and then not being able to see people."
This distance from routine and social interaction the elderly are faced with is hard, with roots in human psychology. It is a significant challenge for people to be apart from each other.
"We all need human interaction. Especially touch," Gerard Coury, world history and AP psychology teacher, explained. "Video chats can help, but does not satisfy all our needs…since most of us are limited with social interaction, it's important to do other things to combat the anxiety/stress we are feeling."
"
One day goes into the next because there's no really routine anymore…thank goodness for calendars!"
— Ginny Rovelstad
Residents like Rubertus and Rovelstad have been exploring some of those "other things." They go for walks regularly, garden and partake in various positive activities to boost morale in the community.
Rubertus has been keeping very busy, she explained. Whether she is helping other residents to learn to use technology to connect, going for bike rides or sewing over 500 masks for distribution around Boutwells and the surrounding community, she has been working hard at maintaining the active lifestyle she had before the pandemic.
Although Rubertus' proactive and positive attitude may make coping with the situation look easy, she emphasizes the ups and downs of the experience. The threat of COVID-19 is especially real for her, and she is well aware of the danger.
"My husband has some major issues with Leukemia and also a lung problem," Rubertus said. "So if he gets this, he's probably not going to make it."
For her, these times are of unsettling uncertainty.
"When will this end, and what will be the new normal?" Rubertus asked. "I have no idea. The other thing is, are we really doing it right? We're making the rest of the community suffer for some of us who are more vulnerable, and I don't know if that's necessarily the right way to do this. But we're going along with the people who say they're in the know, and that's what we're doing."
Despite the concerning sense of insecurity and doubt, the residents are doing all they can to stay strong. The situation is not without its lessons–lessons that ring true regardless of age and experience.
"I think I realize how precious life is," Rovelstad explained. "And when you're well into your eighties, you know, you don't have a real long time to go. And I hope people take advantage of the things that they have. We just take so much for granted, and we don't realize how much we have had. I think it's going to be a whole change of life, and I hope everybody has learned to be more tolerant of people."
Persisting under the shadow cast by COVID-19, the elderly are still finding ways to bloom and blossom.
"It pulls people together because love is what's so important," Rubertus explained. "And humanity, and being part of that."
About the Writer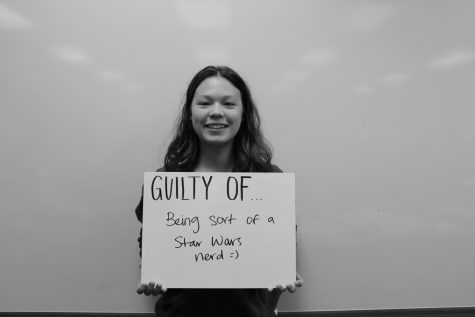 Sandy Liu, Distribution Reporter
My name is Sandy Liu, and I am a junior Distribution Reporter.  In my free time, I enjoy mountain biking, watching movies, and watching and participating...