Senior electives provide many benefits
With the many aspects of a high school student's daily life: homework, studying and extracurricular activities; a majority of students find it difficult to balance it all and still find some time for themselves and their mental health. According to a Student Life Survey done by The Princeton Review, 25 percent of students in the U.S. reported homework as their main source of stress, and on average, about one-third of teens feel anxious or stressed during their time spent studying.
Senior electives provide an opportunity for students to take either first or sixth hour off. A senior elective only lasts one semester, however, seniors can sign up twice to have a senior elective both semesters. This option allows seniors to have more flexibility in their schedules and decreases stress. Furthermore, with the popularity of the senior elective, comes a multitude of incoming seniors signing up, which would erase potential classes that could help students.
Since senior electives have no restrictions in place, students who have a senior elective can do whatever they want or need to do. The only requirement for a senior elective is getting approval from their counselor.
"[Senior electives] allow our seniors the opportunity to go out and do what they need to do in their senior year," Assistant Principal Aaron Drevlow said. "It allows students to meet with their counselor and confirm there's a benefit to being out of the building, it could be a number of different reasons."
Since seniors have the freedom to use their senior electives how they wish, many students will either arrive late or leave early from school. Because of this, there are fewer people coming and going at the same time, the parking lot will be less congested for the seniors who drive. This allows our junior and sophomore students who drive to school to not only get in and out of the parking lot quicker, but it makes the parking lot safer.
"
"[Senior electives] allow our seniors the opportunity to go out and do what they need to do in their senior year,""
— Andrew Drevlow
Senior Catherine Monty said she is quite fond of the senior elective because she can leave early, which is beneficial for the parking lot because it is a disaster after school.
The senior elective option also allows students to finish work at school in case they do not drive themselves to school or need to stay for an after-school extracurricular. Students are also able to receive help from teachers who have a prep hour during their senior elective.
"One of my favorite things is I can go in and get help from my math teacher during sixth hour because she doesn't have a sixth hour," Monty explained. "It helps me really understand the content because it is a very fast-moving and hard class."
Senior electives are not the only option available for students to take instead of a class. Students can take a similar route and become a student assistant for a number of teachers and/or staff.
Monty added she enjoyed being a student assistant, and it is "basically like another senior elective, except it isn't always first or sixth hour."
There have been considerations of implementing internship opportunities within the school instead of a senior elective to help seniors get some career exposure before graduating. This could be beneficial for students, and according to pathways coordinator Bob Manning, "could help students gain experience." However, this could add more stress on a student, and is basically the equivalent of taking an additional course.
Many seniors have a lot of stress outside of school with college applications, applying for potential scholarships and simply trying to figure out what they want to do for the rest of their lives. Seniors need to have less on their shoulders, and a senior elective is a way to relieve said stress. 
About the Writer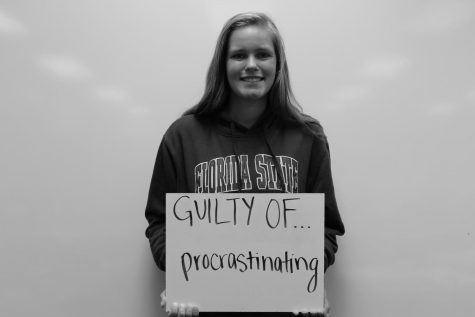 Allison Benning, Podcast Reporter
My name is Allison Benning, and I am a junior. I am a Podcast Reporter for the Pony Express. I also play on the varsity tennis and varsity softball team,...