AVID elective prepares students for college
AVID is a program offered in the district that is meant to give middle academic students an extra boost on their path to college. Most students enrolled are the first in their family to go to college, so this experience is completely new to them. Despite the benefits of the class, AVID students lack space in their schedule due to the class being an elective credit.
AVID stands for Advancement Via Individual Determination. The goal of the program is to close the achievement gap by providing students with college readiness tools. AVID looks to help underrepresented students through the college process. Before beginning the program, students must complete an application and interview to be accepted. Students must maintain a GPA of 2.5 throughout the school year to continue with the course.
"The program places special emphasis on developing our student's writing, critical thinking, teamwork, organization and reading skills and targets students in the academic middle with the desire to go to college and the willingness to work hard," Eric Anderson, Coordinator of Equity and Integration, said. "AVID students are willing and capable of completing rigorous curriculum and they utilize the support of the AVID Elective
teachers to achieve their goals."
Students in AVID spend time practicing for college entrance exams and applications. Students also explore the financial aspect of college. AVID emphasizes the scholarship and FAFSA process. Students also spend time writing essays to improve writing and communication skills.
"It's a college preparatory course and I get a chance to help students see how all of their other work leads to a future that includes, if they choose it, higher education and a career and it's kind of just inspiring them to find their path, which is, for me a really exciting thing to do," AVID teacher Brandon Maxwell said.
A core part of the AVID curriculum is taking what is known as "Cornell notes." This style of notes requires students to be more organized and to take a deeper look into the understanding of the material. AVID is continually working to prepare students for what college is like, and creating good study habits now in order to not fall behind at the next level of education.
Senior Max Gonnian has been in the program for five years and believes a benefit of the class is, "Going throughout the years with the same people, you kind of build different relationships. New people come and go, but you kind of have that base of the same people throughout five years."
Strengths of AVID include the strong community that is built and teaching focused on college readiness. On the other hand, being an elective class, AVID takes up valuable space in a students limited six period schedule. These elective credits may take away from other elective courses of interest.
"
I think it's definitely helped me with organization, I think it's helped me with my communication skills and working in a group. It's taught me a lot about public speaking. I don't think I'd be where I'm at now without it."
— Max Gonnian
Junior Khuluc Yang, who has been in AVID for 4 years, explained, "A lot of the past students that have been an AVID had to drop AVID because of choir, orchestra or because of art credits."
Yang had to give up Spanish to continue taking AVID. She is also enrolled in PSEO to gain credits faster so AVID can fit in her schedule. Another way Yang is making up credits is through a new summer AVID program, where she is getting her health and PE credits out of the way.
"They get to go to school, take that credit in the summer with students from other schools, and they're all from AVID programs," Maxwell said. "We also offer the same opportunity or similar with health and PE and they can get two credits for that one, the health and the PE credit. And that one is held in Roseville."
The summer course continues to build the community aspect of AVID by always building a tight-knit family relationship within the program. Also, AVID helps students to learn valuable skills that they will use throughout their lives. The program can be a total confidence booster for students who had struggled before joining the program.
"I think it's definitely helped me with organization, I think it's helped me with my communication skills and working in a group. It's taught me a lot about public speaking. I don't think I'd be where I'm at now without it," Gonnian said.
"As far as the results of this year's graduating class of 2019, all 22 students have
been accepted to college!" Anderson said.
Leave a Comment
About the Contributor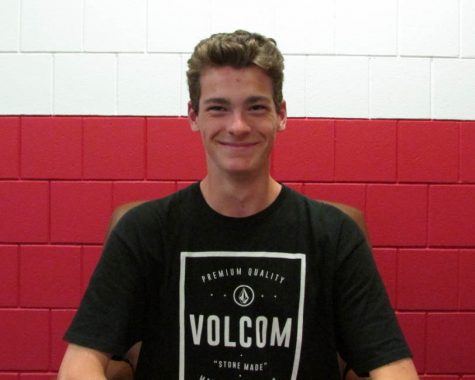 Jameson Stahl, Editor-in-Chief
Jameson Stahl is an Online Editor-in-Chief for the Pony Express newspaper. Outside of school he plays lacrosse for the high school and for the Minnesota...