Freshman hockey star Ty Tuccitto makes his way to varsity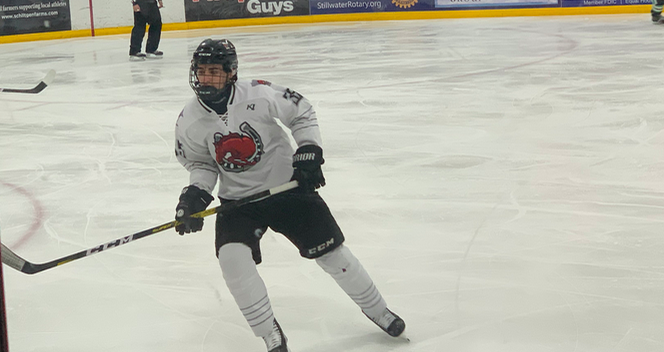 Boys hockey is well known for maintaining a competitive nature. Playing for a team as notorious as Stillwater, the competition aspect is enviable.  Every year the team is made up of mostly upperclassmen. This season only one freshman made the team: Ty Tuccitto. Tuccitto has played hockey for 10 years. He plays forward, making him fifth in scoring. Tuccitto plays with anger and passion, being the youngest on the team he steps up to the occasion and pulls his weight. 
"I want to play as good as I can, and do whatever it takes to win," Tuccitto said.
Having so much talent at such a young age brings many different experiences and opportunities. Last year, Tuccitto played in the bantam elite league tournament, where the top bantam players are selected to play with each other.  
 "Playing hockey has given me the opportunity to travel and go to different places I would've never gone and meet new people I would have never met," Tuccitto explained. 
As the majority of the team is upperclassmen, bringing an underclassman on the team could potentially be a risky decision. They may not perform as well as expected or get along with the players. 
"There was a little hesitation just being that our rule is freshman must play varsity the whole year and not wanting him to lose the opportunity to play with his age group in bantam with SAHA. But after our first exhibition, we knew he was going to fit in just fine," Greg Zanon varsity hockey Coach explained.
Tuccitto went directly from playing on the bantam team to playing on the varsity team.  This season every shot he has taken, he has made. 
"He's definitely playing a big role for us, he plays on the first line and is putting up points. He is absolutely a big part of our team this year," junior Noah Tussey said. 
"
I want to play as good as I can, and do whatever it takes to win"
— Ty Tuccitto
Similar to Tuccitto, Tussey was the only freshman on the team in the 2017-2018 season. Tussey has been playing on the team ever since and is currently teammates with Tuccitto.
"I think we have a lot of similar personality traits. I see it in his work ethic, his commitment and dedication in every game is pretty similar to how mine was and still is," Tussy said. 
Furthermore, this season Tuccitto has been playing with aggression and spirit. Tuccitto is six feet and three inches tall, bringing a large advantage to the team.  
"He brings size and skill which helps us balance our lines out," Zanon said. 
Playing a team sport requires all the players to be close and have good connections. Without a strong bond, it is harder for teammates to communicate and get along. This could potentially cause the team to not perform as well. 
Joining the team he was unfamiliar with the rest of the players, Tuccitto said he does not notice it, he normally gets treated just like everybody else. 
Tuccitto is only a freshman and shows extreme talent and passion for the sport. He has a total of 23 points this season and is not backing down anytime soon. 
"With so much natural talent we're excited to see what his future holds," Tussey said.