Marquez serves others around the world
"The trip of a life time", is just one phrase describing the trip that junior Rebecca Marquez is going to take this summer. June 26 to July 13, Rebecca will travel with a group of about 20 other kids and a couple adults to Brazil for a mission trip.
This experience takes a special person, who is willing to give time and effort to others. Not everyone is able to sacrifice so much time out of their summer to go serve others, but Rebecca is one of those special individuals who can.
"She's a giving person and she likes to take care of others. That's kind of her nature. And so she ever since she heard about this, she's wanting to go," Rebecca's mother, Sandra Marquez said.
Trips such as this one can cost more than most people realize, making the student responsible for coming up with more money than they usually have. Rebecca has found many ways to fundraise that money, whether it's through school, family and friends, or even her church. All these are helping her get closer to her amount needed for the trip.
"I made cinnamon rolls and sold them to people from school and church, but I never thought they would be as popular as they have become. I also sent out a letter to close family and friends with a personal note, so I got donations from that," Rebecca said.
Rebecca and her mother mentioned the amount of money that has been made though the cinnamon rolls alone. With them priced individually at $3 a piece, she has made over $375 and that number continues to rise.
"
I [have] wanted to travel for so long. I feel like this is a good way to not only be a tourist, but actually meet people and do something good."
— Rebecca Marquez
Inspiration,
Taking trips like this runs in the family, since her brother also went on a trip similar to this one to Mexico. Rebecca has talked a lot to her brother about his experiences through a similar trip.
"It was life changing, and you meet so many new people. This was a really faith building trip," Rebecca said.
Some dreams are meant to come true. For Rebecca, this trip competes one of those dreams of traveling. The experience of traveling is an experience of its own, but doing missions while traveling makes the traveling even more unique.
"I [have] wanted to travel for so long. I feel like this is a good way to not only be a tourist, but actually meet people and do something good," Rebecca said.
HEFY Organization
The trip is planned and put on by an organzation called HEFY, Humanitarian Experience for Youth, that takes teens and adults on service trips around the world. The organization has people "rolling up their sleeves and getting sweaty and dirty," according to the description on the website.
"The organization is run by people who have very high standards, and they are very well run organization. So I feel really safe sending her kind of knowing that she'll be safe," Sandra said.
Preparing for a trip of this length and this far away is stressful. Going though the organization, Rebecca talked about how helpful they have been in just getting her ready little by little for this trip.
"We have a builder checklist, I had to get a passport, I have to get a visa, and there are some videos we can watch to prepare," Rebecca said.
With people from all over the United States going on the trip, there has to be way to get to know people so they are not complete strangers. The organization has played a big part in that, just making sure they have some contact before finally meeting each other for the first time and spending almost two weeks together.
"They put us all in a group chat, the 20 kids that are going, from all over the country, like Hawaii, Idaho, South Carolina, and that is how we get to know each other," Rebecca said. "Then we meet at the airport, give away our phones, and we are together for 16 days."
The Trip Itself
About 24 people that have never met before, besides conversations over texts are all thrown into a group. This makes this trip even more unique, some would think of this as a bad idea with strangers that Rebecca has never met before. Her view on this idea of the trip is very different then how most people would think of it.
"Just being thrown into a completely different situation, different area with new people … we're all experiencing the same thing at the same time," Rebecca said.
Communication is a big part of a parent and child relationship. Through this trip, Rebecca and the rest of the team will not have any internet access to communicate with parents and friends, giving them a different experience then what it would be like with their phones.
"Not having a cell phone for two weeks is going to be a very good experience they will post on instagram every night just so you know everythings ok and they are able to send one email home at some point, but otherwise it will just be 'I'm in the Miami airport and we are leaving' and then it will be two weeks," Sandra said.
For Rebecca, she is not only looking at what she wants to go and see on this trip, but also what she wants to accomplish with helping other people. Her mom, Sandra, talked about what she hopes Rebecca can do on this trip.
"I hope she learns more about kind of the world and what other people live, what conditions other people live in, and what it means to give back and kind of appreciate what she has here in the United States," Sandra said.
Trips in general are something that people get excited for, but for Rebecca there is more than just traveling internationally. In an interview, Rebecca talks about what she is most looking forward to on this trip.
"Meeting all the local people and just like seeing a new culture, because I've never been out of the country before. And so it'll be interesting to see how they live and just meet all the little kids," Rebecca said.
About the Writer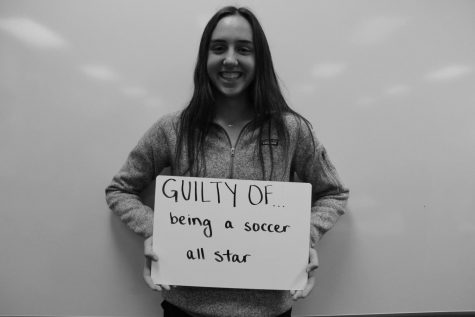 Haley Nelson, Online Editor-in-Chief
Hi, My name is Haley Nelson and I am a senior online editor-in-chief this year. I play varsity soccer for the high school. Besides playing sports, I love...