T.R.U.S.T buddies unifies students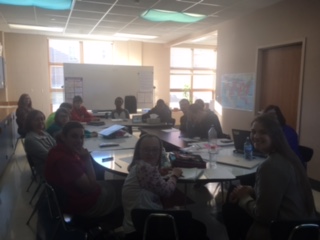 T.R.U.S.T buddies is an acronym that stands for True Respect Unifies People Together. This what the club is trying to accomplish, unifying students in general education with special education students, by building relationships and experiences together through games and social interactions.
PE and DAPE teacher, Paula Harrison, advocated for this club last school year as well as a new course called Unified PE. She was helped by senior Aubrey Kelly.
"Last year I was in an independent study with Mrs. Harrison," Aubrey explained. "Mrs. Harrison and I started working last year and wrote up some class plans and met with the school board and each other throughout the second semester of last year." They were finally able to put together a class this year.
The class Unified PE partners up general education students with the special education students during second hour. The class counts as a PE credit or an elective.
Harrison elaborates explaining what they do, "Every day we do a walk and talk, and they get to know each other a little bit better, and they do different activities."
Besides all of the physical activities, they do as it is a gym class the most important part is that "it is really just a social thing for them." Harrison is happy to report that all of the teachers and students involved are "loving it."
Aubrey's favorite part of the club and class is "definitely working with the students. I am in the Unified PE, so I'm here every single day during second hour. And I get to work with two different groups of students, one on Mondays and Wednesdays and one on Tuesdays and Thursdays and it's just so fun watching them pick up a new skill that they couldn't do before or joking around with them or just being able to have a connection with them that I don't have with anyone else in my life."
T.R.U.S.T buddies club meets every week during flex time, and everyone is welcome whether or not students are in Unified PE.
"We have a bunch of our special education students come down, or we go visit them in their rooms and can play games, talk with them socialize and do some activities in the gyms" explained Aubrey. The club's main purpose in Harrison's opinion is "getting our special friends and our general education students to get to know each other a little bit better."
"We are just trying to get that stigma out of their group that they are on their own, but we are all students," Harrison said. Harrison wants the stigma that separates the students to disappear through making these connections with the special ed. kids.  
"
Just being able to have a connection with them that I don't have with anyone else in my life."
— Aubrey Kelly
"The inclusion piece has been around for a long time. But I think we're kind  of getting a from really, truly being inclusive and that I think will help make people more aware, is that they understand that."
Aubrey explained that there are two sides to the importance of clubs like this "There's an importance for the general education students because I know that it's changed my life. It's made me a lot more accepting. And it's put everything into perspective for me that I really have an amazing life. And I've been really lucky, and it's they've taught me so much about love and confidence and acceptance. So it's really important to general education students for that."
Aubrey went on and explained that "From their point of view, the special education students, it's really important for them just to feel not so segregated within the school there, it's a sense of inclusion, and they get to engage with students that they may not have had the opportunity before because of the setup of their class schedule. So it's really important to them to be able to engage with everyone around the school and make some new connections within people."
T.R.U.S.T buddies are accomplishing many things on the path to making the gap between general education students and special education students smaller. If people want to become more involved in this idea and help the kids then just spend one flex day reading or playing a game with the special education students and make their day better.
About the Contributor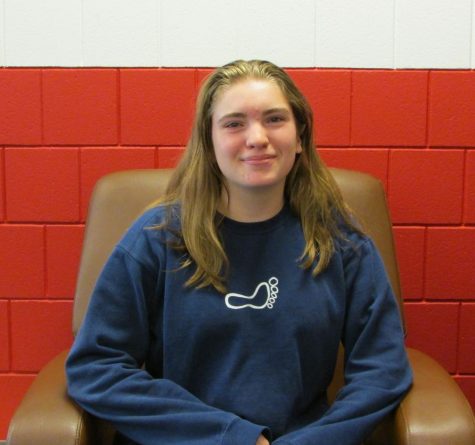 Maggie Dalager-Ericsson, Online Editor
My name is Maggie and I am a junior. I am an online editor for the Pony Express. I am in synchronized swimming. I like writing stories in my free time....