Dodds, Maxwell and Kaul lead new Peer Helper program
Hang on for a minute...we're trying to find some more stories you might like.
Adolescents often turn to their peers rather than adults with their problems. The new peer helper program begins this fall is a support system for the students that are most often relied on by others to help solve dilemmas. Oftentimes those heavily relied on students are either stressed out or do not know how to help their friends in the best way possible.
Peer Helper Advisors Chelsea Dodds and Brandon Maxwell follow Social Studies teacher Mike Kaul's lead on this new program. The peer helper program is beginning early November after the student and teacher surveys come back with the names of possible peer helpers. This program focuses on guiding and aiding the students that often are the people their peers go to when they are going through something difficult.
Peer helpers can range from freshmen to seniors and are average, everyday students. Peer helpers help other students to identify and understand their problem, brainstorm their options, seek options and decide on a course of action and identify and utilize adult resources.
Peer helpers are "coached through and trained on how to respond to crisis intervention… [because] a lot of [students] said that they think depression and anxiety are a big concern at school," Dodds explained.
Additionally, it is common for friend groups in high school to single out one individual who is a good listener and empathetic to help them get through what they are struggling with. The pressure put on the individual who everyone relies on can sometimes be too much for them to handle.
"
Oftentimes those students who are always those great listeners and friends, they take on everyone's problems, and they don't always take great care of themselves."
— Mike Kaul
"Oftentimes those students who are always those great listeners and friends, they take on everyone's problems, and they don't always take great care of themselves," Kaul added. "And so we're going to try to identify those students and give them training, give them support, let them know that there's resources they can direct their friends to when they need more help, and hopefully, that will help students and change our climate."
The community is glad the school is acknowledging this because Dodds explained how students of the 21st century have been asked to do an immense amount of tasks that are very stressful and sometimes their home life does not support them in a positive way.
"I know a couple of our school board members have been attending the mental health collaborative and we're very supportive of the projects that went forward and I know that they're very supportive of anything that helps our students as far as giving them more social emotional support," Superintendent Denise Pontrelli explained.
There are monthly meetings for this program and more information will be released soon. Peer helpers are there to help all students on issues from a fight with a friend to crisis intervention and suicidal ideation.

About the Writer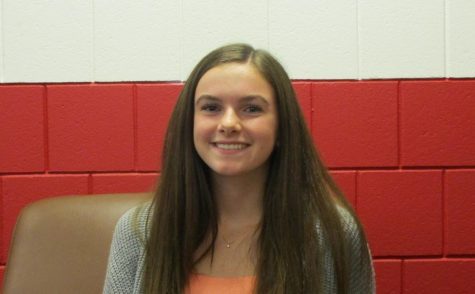 Carina Block, Copy Editor
My name is Carina Block, I am a junior in school and a copy editor for the newspaper. I like to play golf and work out. I hope to go to dental school and...