State champion gymnasts prepare for upcoming season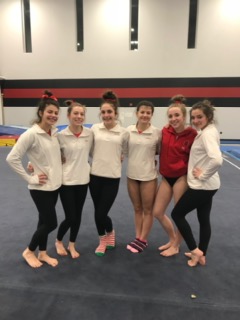 After winning State last year, the gymnastics team prepares for their upcoming season as returning State Champions. The girls 2017-18 gymnastics team beat Lakeville North to claim the title of State Champions. The gymnasts have started offseason practicing at their home gym, which was a new addition to the school last year, to get ready for the start of their season.
In November, grades seven to twelve can try out. This is the start of their 2018-19 season. The gymnasts practice three times a week, for their second year in the new gym and first year practicing in the gym during their offseason.
This year, Dusty Dennis and Joan Ledson will become the new head coaches. Last year, Ledson and Dennis stepped up as co-coaches after the head coach, Traci Swenson, resigned. Ledson and Dennis becoming full-time head coaches will be a change for the team this year.
Coach Dusty Dennis said, "Joan Ledson and I are coming back as the full time head coaches, last year we were kind of intern, so that is going to be a huge change."
The new gymnastics gym was built last year during the school's remodeling. Before the gymnastics gym was created, the gymnasts had to put up and take down all the equipment used. Now the gymnasts have a place to go and practice on and offseason.
The new gymnastics gym had an impact on their performance last season junior Emily Gray said, "it gave us more opportunity to do bigger skills." Dennis adds, "I think it was kind of a pride thing, you have your own gym in your own space and it just kind of gives you a home and I think it makes you feel better."
"
I think it was kind of a pride thing, you have your own gym in your own space and it just kind of gives you a home and I think it makes you feel better."
— Emily Gray
Pre-season has begun for the gymnasts, they practice Mondays, Wednesdays, and Fridays. Their practices are taking place in their gym this year which is a change from previous years where the gymnasts had to go elsewhere to practice during the offseason.
"Most of our girls have not been working out, they work out in the offseason but usually have to go to other clubs or other places. And now this year they'll be coming and working out in in our own gym," Dennis said.
After winning state last season, junior gymnast, Bekah Warner, thinks that the practices have changed, "Practices are a lot different now and they are different for the better, people are more intense and they want to practice harder," she said.
"We would like to win conference. We would like to win sections and we would love the opportunity to return to state again," Dennis explained.
Mark the calendar for the start of the season for the gymnastics team, officially starting in November.
About the Contributor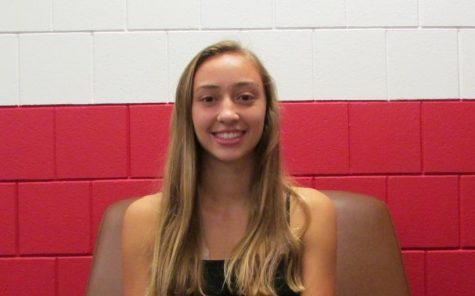 Elle Sprenger, Social Media Editor
Hi my name is Elle Sprenger. I am a junior, and a Social Media Editor for the Pony Express. I play volleyball for the high school. I love dogs, animals,...