Krahn steals the show in spring musical
Read and Watch Video by Mya Lysne, Grant Hietpas, Gabi Danielson
Towering at 6'2 and regularly found dressed for success, Isaac Krahn is no ordinary senior. A student and cross country runner by day and now a rockstar by night, he recently was cast in the SAHS spring musical "Bye Bye Birdie," playing the title character, Conrad Birdie. Usually found running in track and cross country at Stillwater, Isaac is quite new to the high school stage. As rehearsals have started heating up in the past few weeks, Krahn has started to make a name for himself in the theatre program at Stillwater and already captivated the hearts of many, much like his hip-swinging character in the show.
A public service
"I tried out…because I love musicals and I love theatre. One of my close friends James Wagner suggested I do it because he does the pit orchestra for it," Krahn said.
Isaac is new to the stage but was an admirer of musicals and theatre for a long time. In sixth grade, he took part in his first ever school play. Although he claims it was much lower quality than the work he's doing now, it definitely lead to his passion for theatre. After seeing the fall musical "Grease," Isaac told his friend James Wagner that he'd like to try doing some theatre when he went off to college. Wagner convinced Isaac that he didn't have to wait until college. Another one of Stillwater's popular productions was to be held in a few months.
"That man is perfect for Conrad…he had to do it. It's a public service," senior James Wagner said.
The musical
"Bye Bye Birdie" centers around an Elvis-inspired rockstar named Conrad Birdie, who has been drafted into the army in 1958. His manager, Albert Peterson, arranges for Conrad to pull off one last publicity stunt on live television: to bestow a final kiss on a girl named Kim MacAfee from a Conrad Birdie fan club in Sweet Apple, Ohio. Throughout the show, the audience will meet a number of crazy characters that are involved with this live broadcast, the national celebrity and the conflicts that arise from this final kiss.
Both the 1960 original broadway production and the 1963 film gave rise to a number of different classic theatre and film stars, including Dick Van Dyke, Chita Rivera and Ann-Margret. The energy of the show and unforgettable soundtrack is what makes "Bye Bye Birdie" a production to remember. The show will appeal to both children through the comedic nature as well as adults through the nostalgic music and throwback style to the 50's and 60's.
This show will be different from "Grease!" as it will feature a live pit orchestra, directed by conductor Dennis Lindsay.
"The singers have to be extra attentive to what the conductor is doing…it is challenging for the conductor as well because he needs to be paying attention to vocalists," vocal director Katelyn Larson said
Because of the style of the show and music, Conrad Birdie often leads the pit orchestra and they have to follow his vocal lead. Isaac has been practicing with leading both the orchestra and the choir of people behind him in Conrad's biggest songs like "Honestly Sincere," "One Last Kiss" and "Lot of Livin."
"Honestly Sincere…in that song it's basically Conrad walking around the stage pointing at a whole bunch of teenage girls and everyone at the end of the song is laying on the ground…it's gonna be a large spectacle," Krahn explained with a laugh.
Method acting
Even when just sitting in a vocal rehearsal or singing with the pit orchestra, the cast of Bye Bye Birdie swoons just watching Isaac in daily life. Krahn's hardest but most rewarding part of the role is having to impersonate the Elvis-like persona of Conrad Birdie. His hip-shaking  performance of any of his major numbers in the show prompt giggles and cheers from the cast in rehearsal, and excitement is mounting as the April production gets closer.
Through juggling rehearsal, track practice, schoolwork and a social life, Krahn has loaded his plate for the spring of his senior year. Fortunately, his teachers, directors and coaches have been understanding of his busy schedule and are working with him to make the most of his time in each activity. Across the school, an excited buzz is being created as the news spreads that Isaac Krahn is making his debut on the Stillwater stage.
James Wagner represents this excitement as he says:
"I think he's the kind of guy who isn't afraid to put himself in the spotlight, to entertain himself, to entertain others, to really just enjoy it…he's a showman," Wagner said.
About the Writer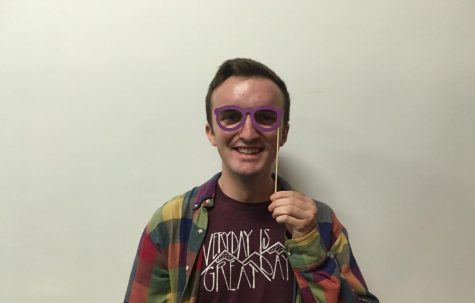 Ben Valerius, Announcements Editor
Ben is a junior and writes for news. He is the Announcements Editor. Ben enjoys taking part in theater and singing in the Stillwater choir and Vagabonds....