Sophie Vogel stars in 'Grease'
Senior Sophie Vogel's day begins at 6:10 a.m., and ends later than 12 a.m. She wakes up, goes to school, orchestra, work, rehearsal and finally home to study and do homework. All of this work is worth it to her though, as she finally has her dream role as Sandy in the musical 'Grease.'
'Grease' is a musical from 1978 that stars Sandy and Danny, two teens who fall in love, but have very different lives. They struggle to find a way to make their relationship work through the troubles of high school.
Sophie's day is packed full with classes and work, leaving little time for much else. She auditioned for 'Grease' knowing her days would be endless, but was shocked and elated to hear she got the lead role as Sandy, though she pictured herself as Sandy from the start.
Fitting the role
"Sandy is kind of demure and sweet and pure, so I kind of tried to find a song that fit that so maybe he [the director] would see me as Sandy when I auditioned before even the callbacks," Sophie said.
After Sophie's audition, in which she sang 'In My Own Little Corner,' from the Broadway version of 'Cinderella,' she got to spend time with her theater friends and soon-to-be co-stars. Michelle Larson, vocal director and choir teacher, helped assemble the cast and was expected to hang the casting list before school. After seeing the listings, Sophie was thrilled to see that she earned the role of Sandy.
"I've been involved in theater for a really long time so I kind of have a tight-knit group of friends in theater now, so I kind of just wanted to do it to be with them, but also this is really fun for me because Sandy in Grease has been my dream role since I was a little girl, so I'm really excited to be able to fulfill that," Sophie said.
Sophie was grateful to have achieved her dream role. Director Grif Sadow believed Sophie deserved the role of Sandy because she brought variety and depth to the character.
"
There was a lot of possible Sandys, but I think we went with Sophie because of her ability to embody the role, and she's very strong vocally and can portray the character changes needed."
— Grif Sadow
"There was a lot of possible Sandys, but I think we went with Sophie because of her ability to embody the role, and she's very strong vocally and can portray the character changes needed," Sadow said. "She also works hard and is dedicated to everything she pursues."
Sadow is not the only one who believes Sophie deserved her role. Mason Michalksi, junior and Sophie's co-star, said that he knew she would earn the role of Sandy.
The Danny to her Sandy
"Sophie is literally good at everything. She's a really good actor and a really good singer," Michalski said. "I didn't think somebody would be that good."
Michalksi is starring in 'Grease' as Danny, alongside Sophie. He got the male lead role even though he has little theater experience. Despite this, she said it has been great working with him and that he has done very well so far.
"He's fun. It's not awkward, which is good. He's never been involved in theater before so it's cool to see him," Sophie said. "He's your typical hockey boy, and he's doing theater so that makes me so happy."
Sophie is excited to be working with such good friends, though finds herself struggling occasionally to get everything done. She not only has to juggle a part-time job at a preschool, but also extra-curriculars such as Con Amici, an after-school orchestra and rehearsals.
A hard day's work
"Sometimes it happens where you have to be in two places at once. Like, you're supposed to be at work, but you're also supposed to be at orchestra, but I'm also supposed to be at rehearsal, so I kind of have to talk to the administrators of all of those things, like my boss, Mr. Sawyer, Mr. Sadow, and figure out where I'm supposed to be, and sometimes they're not so happy. I feel really bad but there's nothing much I can really do," Sophie said. "I'm usually here until 7:30 p.m. at night right now with rehearsals, and when it gets to a week before [the show] we'll be here even later, so it will get crazy, but it's worth it."
Sophie said it has been a lot of work, but will pay off in the end. The rest of the cast, which consists of upwards of 70 members, is also hustling to get things done, as they only have about 60 days of production. The typical cycle is longer than three months.
"I think people should know that we put this on in a month and a half, because it's a big show. It's a huge cast, there's lots of lines, it's a lot of work. We've put so much time into it, so it's kind of impressing considering the time crunch," Sophie said.
Despite the show's short production cycle, Sophie says the production quality is incredible.
"I don't get to dance that much because Sandy's kind of a party pooper when it comes to prom, but I've been able to watch the rest of the cast learn the dance, and they're all so talented and it's going to be amazing," Sophie said. "The costumes are amazing for the dance, and I'm just really excited for everyone to see their hard work pay off."
Sophie was eager for everyone to see their performance of 'Grease,' and said that her fatigue will be worth it.
"I've been staying up so late, I can't remember the last time I've gone to bed before midnight. I'm tired all the time, but it's OK," Sophie said. "I'm getting more excited; nervous-excited. But I think nerves are a good thing. They encourage you to do well and stay on your game."
About the Contributor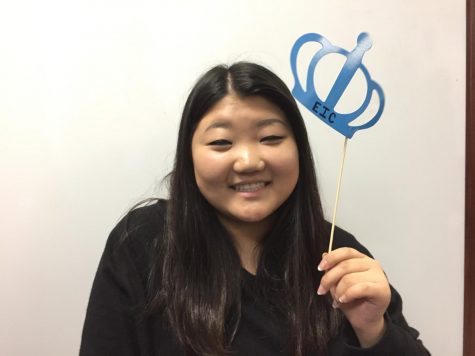 Mira LaNasa, Print Editor-In-Chief
Mira LaNasa is a senior and a Print Editor-in-Chief of the Pony Express who manages the photography department. She was born in South Korea and now lives...