New year brings new books for media center
Hang on for a minute...we're trying to find some more stories you might like.
From the beginning of this school year, the media paraprofessional, Mary Peters had been searching through an extensive list of books to find ones that would best suit the high school, in her opinion.  In the end, the list was narrowed down to about 60 books.

With the list complete, Peters ordered the books which have been trickling into the media center since Dec. 5.  Some of the new books include Stephen King's "IT" and John Green's "Turtles all the way Down."  The books were selected based on ratings.  Peters hopes that the new library books spark students' interest in reading as well as heighten their awareness of the world.

"I go through a long process.  I start at the very beginning of the school year," Peters said.

First, there was a set price limit before Peters made any purchases.  To select the books, she initially went to the Young Adult Library Services Association's website because the group reviews young adult literature.  Peters said she selects books that are appropriate and educational.  Lastly, she researched some more, and then picked the books with the highest ratings.

"

I really like to read and it's kind of an escape from life.  It is fun.  I learn a lot from reading also."

— Natalie Peterson

"I think that 'IT' will be a popular one.  I've had at least 30 students request the book," Peters added.

The movie "IT" was a great success last year, as it racked up $123 million on its opening night.  According to Variety magazine, it was the third largest opening night of 2017.  In response to the movie, it is likely that more people were prompted to read the book.

"I really like to read and it's kind of an escape from life.  It is fun.  I learn a lot from reading also," junior Natalie Peterson said.

Reading has numerous benefits.  Studies have shown that reading improves a person's vocabulary, writing skills and it also reduces stress.  As a person reads, they pick up new words that they can incorporate into their conversations later.  In turn, their writing becomes stronger as they use a variety of words and sentence structures.  

Brandon Maxwell, English teacher and AVID instructor, believes that reading is what pushed him to become an English teacher.  Although he admits that he did not always enjoy reading, he said that once he found the right book, reading became one of his passions.  Because of this, he wants to send a message to students.

"I would challenge students who haven't found that one book that has ignited a passion for them, that has been something that they have really enjoyed, to get down to the media center.  Keep working to find that one book because it will change their life when they get it," Maxwell said.
About the Writer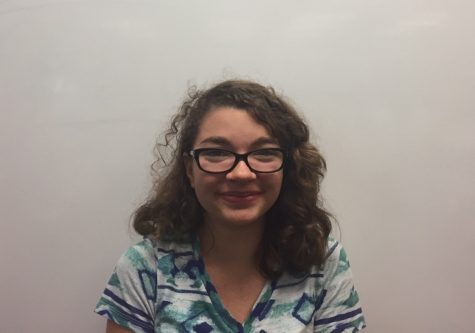 Rose Deziel, Copy Editor
Rose is a Junior this year and she is a Copy Editor who also writes for the News and Activities department. Outside of school, Rose enjoys biking, volunteering...